---
Sulfuric acid is a major industrial chemical used to produce end products, such as fibers, chemical compounds, paints, detergents, and dyes. The most abundant amount of sulfuric acid production is purchased to manufacture phosphate fertilizers, calcium dihydrogen phosphate, and ammonium sulfate for fertilizer manufacturing.
Today, a large amount of the valuable sulfuric acid supply (approximately 70%) is derived from the metallurgical industry as a byproduct from the roasting, smelting, and refining of nonferrous metals. Other sources of sulfuric acid produc-tion come from natural gas processing, electric power generation, and spent acid regeneration. These industries are usually heavy emitters of particulates, sulfur and nitrogen oxide gasses, sulfuric acid mists, and other pollutants. They are also under the watchful eye of environmental agencies worldwide with strict regula-tions.
Case study: Mopani Copper
Mopani Copper Mines Plc, a unit of Switzerland-based Glencore Xstrata, oper-ates sulfuric acid production facilities at its copper smelter plants in Mufulira and Kitwe in Zambia. The sulfuric acid plants currently have nine wet electrostatic pre-cipitators (WESPs), designed and engineered by Beltran Technologies, for sulfuric acid gas cleaning.
When concentrations of sulfur dioxide from mining operations exceed 5 – 7% of exhaust-gas volumes, a common and cost-effective solution is the incorporation of a downstream sulfuric acid manufacturing plant. Mopani is able to capitalise on the high industrial market value of purified sulfuric acid, while achieving greater operating efficiencies and easier regulatory compliance.
An efficient sulfuric acid manufacturing process requires the maximum possi-ble removal from input gas streams of fine particulates, acid mists, condensable organic compounds, and other contaminants. This high level of gas-cleaning effi-ciency is necessary to prevent poisoning of the catalysts and fouling or plugging of the catalyst beds. An optically pure input gas is essential for avoiding the for-mation of a 'black' or contaminated acid end-product[…]
This article originally featured in the May 2019 issue of Hydrocarbon Engineer-ing. To read the full article, sign in or register for a free trial subscription.
Read the article online at: https://www.worldfertilizer.com/special-reports/06052019/sourcing-sulfur/
You might also like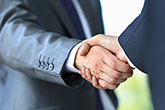 The company has announced that it has signed a definitive purchase agreement with Incitec Pivot Limited for IPL's ammonia production complex located in Waggaman, Louisiana.