---
In the inaugural World Fertilizer Spotlight, Deputy Editor Nicholas Woodroof speaks with Juan A. González-Léon and Lucas Moore from Arkema-ArrMaz to discuss their article on fertilizer substrates and deliquescence, which featured in the November/December 2020 issue of World Fertilizer.
This Spotlight Q&A session reviews some of the key ideas raised in Juan and Lucas's article, entitled 'Solving moisture absorption challenges'. The article shows how, with the appropriate coating, deliquescence can be significantly slowed and fertilizer shelf life increased, even in high relative humidity regions.
To read the article in full, follow this link: www.worldfertilizer.com/magazine/world-fertilizer/december-2020/.
And if you want to learn more about the services offered by Arkema-ArrMaz, visit: https://arrmaz.com.
Read the article online at: https://www.worldfertilizer.com/spotlight-interviews/10052021/world-fertilizer-spotlight-with-arkema-arrmaz/
You might also like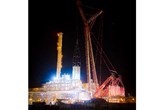 The company developed a solution to upgrade the plant's original towers by lifting out the old intact assets, and manoeuvring the modular replacements into position.