---
PhosAgro, a producer of vertically integrated phosphate-based fertilizer, has reported that its commercial product output increased by 5% year-on-year to 10.2 million t in FY20.
Production of phosphate rock and nepheline concentrates increased by 0.1% year-on-year to 11.7 million t in FY20. In 4Q20, production decreased by 3.6% year-on-year to 2.8 million t.
Total fertilizer production increased by 5% year-on-year in FY20, reaching 10 million t. This growth was due to the construction of new production facilities and ongoing upgrades to existing facilities, as well as an increase in production efficiency during the year. Fertilizer production in 4Q20 amounted to 2.4 million t, an increase of 4.1% year-on-year.
Fertilizer sales increased by 5.3% year-on-year in FY20 to almost 10 million t. This growth was driven by an increase in production volumes and higher demand in the company's priority sales markets. Fertilizer sales exceeded 2 million t in 4Q20, a decrease of 10.1% year-on-year due to the large volume of carry-over supplies at the end of December 2020 and with the company's decision to wait for further potential fertilizer price increases.
The priority domestic market accounted for a significant 29% of fertilizer sales in FY20, nearly unchanged year-on-year.
Chairman of the PhosAgro Board of Directors, Xavier Rolet, said: "The entire world faced a challenging year in 2020. PhosAgro took on this global challenge by prioritising the safety and health of all its employees, their families and residents of all the locations where we operate. The success we achieved is a testament to the dedication and commitment of our executive team led by CEO Andrey Guryev and all our employees who worked so selflessly to contain the spread of the virus. Thanks to their tireless efforts, PhosAgro delivered on its objectives and achieved record production figures, exceeding the annual output level of 10 million t of commercial product for the first time in its history."
Read the article online at: https://www.worldfertilizer.com/special-reports/29012021/phosagro-reports-production-of-more-than-10-million-t/
You might also like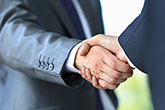 The company has initiated discussions with Unigel Participações S.A. to analyse joint business involving opportunity development in the areas of fertilizers, green hydrogen and low-carbon projects, in line with the revision of the strategic elements for Petrobras' Strategic Plan 2024 – 2028.