---
In an article for the March 2020 issue of World Fertilizer, Gordon Cope, Contributing Editor, states that despite current regional challenges, Africa's fertilizer sector is moving steadily forward.
Opportunities for the fertilizer sector abound in Africa. In 2019, its population exceeded 1.32 billion people. At its current growth rate of 2.5%, the population is expected to almost double by 2050, to 2.5 billion. Luckily, the continent is blessed with the largest phosphate deposits on Earth, and many African nations have natural gas resources to produce ammonia products.
But Africa also faces many trials, from poor infrastructure, lack of technical expertise and high costs of transportation. Nitrogen, phosphorus and potassium (NPK) consumption in Africa stands at almost 8 million t, or approximately 17 kg per hectare. However, due to initiatives in many different countries the creation of fertilizers suited to African soils (as well as technical expertise and availability of farm credit), is expected to rise significantly. "In agriculture, we are developing an imports company to supply not only blended fertilizer but also to take part in the very important programme of mechanisation," said CFAO Kenya chairman Denis Awori. "We are very much focused on the development of Africa."
Nitrogen
The key to the economic production of nitrogen fertilizers is having a large source of inexpensive natural gas. Egypt, with its recent discovery of offshore gas (including the 30 trillion ft3 Zohr field), is both a leading manufacturer of nitrogen (with 17 domestic plants), and an important consumer along the fertile Nile valley and delta.
The KIMA 2 ammonia factory, owned by Egyptian Chemical Industries Co., entered initial production in May 2019. The US$685 million plant is situated adjacent to the company's original Aswan plant in Upper Egypt. The expansion has the capacity to produce 400 000 tpy of ammonia and 530 000 tpy of urea, more than doubling the company's current production of approximately 700 000 tpy of nitrogen products.
In March 2019, Egypt's NCIC contracted thyssenkrupp to build a new ammonia plant at its Ain El Sokhana complex 100 km southeast of Cairo. The new plant is expected to enter operation in 2022 and will have the capacity to produce 440 000 tpy of ammonia, 380 000 tpy of urea and 300 000 tpy of calcium ammonium nitrate. The company, which has phosphate and compound fertilizer capabilities, intends to sell output both domestically and internationally.
Al-Nasr Fertilizers Co. is working with Benchmark Power International to build a new ammonia production plant in the Suez Governorate. The plant will have two phases, each one with a capacity of 1200 tpd, or 438 000 tpy.
Nigeria is another candidate for increasing nitrogen fertilizer output. It produces over 1.5 trillion ft3/yr of gas, exporting about 900 billion ft3 in the form of LNG. However, approximately 400 billion ft3 is flared off, and the government wants to monetise it through gas-fired utilities and petrochemical plants.
Aliko Dangote is building the largest granulated urea fertilizer plant in the world. The US$2 billion complex, located near Lagos, will have four trains that will produce 1.5 million short tpy of ammonia and 3 million short tpy of urea.
In 2018, Indorama Eleme Fertiliser and Chemicals began construction of Train 2 at its nitrogen complex in Nigeria. The Singapore-based company currently produces 1.5 million tpy of nitrogen products at its Train 1 facility; the new train, with a urea capacity of 1.5 million tpy, will double output to 3 million t. The majority of the production at the US$3.2 billion expansion is slated for arable land in northern Nigeria. In November 2019, Moroccan phosphate producer OCP Group finalised plans to build an ammonium plant in Nigeria. The facility, which is slated to enter service in 2023, will have a capacity of 750 000 tpy of ammonia and 1 million tpy of mixed fertilizers. The US$1.5 billion plant is part of OCP's plans to boost its fertilizer sales in Nigeria to 3 million tpy by 2025.
In June 2019, Abu Dhabi National Oil Co. (ADNOC) partnered with fertilizer company OCI to create the largest fertilizer producer in the Middle East and North Africa (MENA). The entity will have the capacity to convert natural gas into up to 5 million tpy of urea and 1.5 million tpy of ammonia. ADNOC sees the move as a way to leverage its production and exports from facilities located in its Persian Gulf port of Ruwais.
The new facilities listed will dramatically increase current levels of ammonia production in Africa, which now stands at slightly over 9 million tpy. The new capacity will significantly boost current consumption of 4.2 million tpy; agronomists note that the optimal annual consumption for Nigeria alone is 7 million short t, ten times its current usage.
This article was originally published in the March 2020 issue of World Fertilizer. To read the full article, sign in or register for a free trial.
Read the article online at: https://www.worldfertilizer.com/special-reports/10032020/progress-on-the-horizon/
You might also like
Join our sister publication, World Cement, in Lisbon, 10 – 13 March 2024, for their first in-person conference and exhibition: EnviroTech.
This exclusive knowledge and networking event will bring together cement producers, industry leaders, technical experts, analysts, and other stakeholders to discuss the latest technologies, processes, and policies being deployed at the forefront of the cement industry's efforts to reduce its environmental footprint.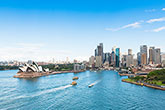 Te´cnicas Reunidas and Allied Green Ammonia have agreed to commence the first phases of a Green Hydrogen and Green Ammonia production facilities at Northern Territory, Australia.