---
PhosAgro-Region, a Russian-based mineral fertilizer distribution network developed by PhosAgro Group, increased its total supply of mineral fertilizers to the Russian market by 7% in 2018, to 2.93 million t.
According to the Russian Association of Fertilizer Producers, PhosAgro Group is the largest distributor of mineral fertilizers for Russian farmers. The Russian market remains a priority for PhosAgro Group, accounting for 30% of sales, more than any of the 100 other countries where PhosAgro fertilizers are in demand.
PhosAgro-Region is the largest such network by total sales volumes, as well as by regional coverage. In 2018, PhosAgro-Region delivered 2.43 million t of mineral fertilizers produced by PhosAgro Group enterprises to Russian consumers, as well as more than 500 000 t of agrochemical products from third-party producers.
Investments in growing the PhosAgro-Region network in 2018 exceeded RUB 800 million; the number of PhosAgro-Region distribution centres increased from 22 to 25 during the year, and capacity for simultaneous storage of solid and liquid fertilizers exceeded 530 000 t.
PhosAgro CEO, Andrey Guryev, said:
"The record sales figure for PhosAgro in Russia was one of the main indicators of the ongoing transformation of the PhosAgro-Region distribution network into a universal distributor of fertilizers and related products and services to Russian farmers. This is facilitated by PhosAgro's transition from a supplier of individual nutrients to a promoter of integrated mineral plant nutrition systems based on introducing various types of fertilizers that are most suitable for a particular culture, soil and climatic conditions, and in particular, with the use of new brands of PhosAgro fertilizers with bioadditives. Ultimately, the clients of PhosAgro-Region are farmers in dozens of regions of Russia who benefited from our advice last year on the use of fertilizers to increase productivity and product quality, which helped to achieve high crop yields even in adverse weather conditions," "We continue to focus on ensuring reliable supplies to Russian agricultural enterprises of PhosAgro's mineral fertilizers, which are naturally low in impurities, and which are key to ensuring the quality and safety of Russian food."
The main consumers of PhosAgro-Region products and services are the Central Black Earth Region and Southern Russia, which account for more than 70% of sales to the domestic market.
Sergey Pronin, Deputy General Director for Sales and Marketing of PhosAgro, said:
"PhosAgro-Region has the most extensive fertilizer distribution network, with the widest regional coverage and largest number of points of presence, and its services which are used by farmers from remote and inaccessible regions of Russia. Following the opening of a regional office in Siberia in 2017, PhosAgro Group in 2018 became the first and so far only national producer of mineral fertilizers to open a representative office in the Far East. Last growing season, our complex sulphate fertilizer helped increase the production of oilseed in Siberia. I am sure that our work in the Far East will give an additional stimulus to increase production of grain and soybean crops for both domestic consumption and export."
In 2018, for the first time in PhosAgro's more than 20-year history, annual sales of PhosAgro NPK fertilizers exceeded 1 million t.
The main share of NPK sales (about 60%) comes from NPK (S) 10:26:26(2). NPK(S) 6:20:30(2) sales increased by 30%, principally in the Volga region. One of the new releases from 2018, NPK 12:32:16 was in high demand in the south of Russia.
In 2018, PhosAgro launched a new line of complex fertilizers containing sulphur and calcium (NPK(S)+Ca) for acidic soils. In addition to providing plants with nitrogen, phosphorus, potassium and sulphur, these fertilizers reduce soil acidity, enrich them with calcium and increase plant resistance to soil acidity. NPK(S) 5:15:30(5) + 7CaO has proved highly efficient in the Kursk region, where local farmers use it for spring grain and sugar beet.
2018 was the first full operational year for PhosAgro's new ammonia unit, with the production site at Cherepovets now fully self-sufficient in this crucial feedstock. Throughout 2018, PhosAgro increased the production of nitrogen-based fertilizers — AN and urea — by 22.4%, and their sales in Russia by 20% to more than 500 000 t.
In 2018, PhosAgro-Region set a record for sales of NPS that amounted to 170 000 t.
Andrey Vovk, CEO of PhosAgro-Region, commented:
"We will continue investing in the distribution network, increasing the number of distribution centres and improving the business infrastructure of PhosAgro-Region. At the same time, we expect that 2019 will see the next stage in the struggle for agricultural business profitability and lower logistical costs for mineral fertilizer users, such as through the introduction of new services, which could have a significant impact. Our next step in this direction is the development of a system for controlling the delivery and application of PhosAgro mineral fertilizers throughout the entire supply chain 'from the conveyor to the field' using RFID and NFC technologies. This is aimed primarily at reducing consumer costs by automating the accounting of the entire volume of mineral fertilizers and ensuring reliable delivery of products to the fields. The system will be presented in March 2019 at one of our distribution centres. This is the first project of its kind regarding mineral fertilizers, which we hope will be valuable for the digitalisation of agriculture."
Read the article online at: https://www.worldfertilizer.com/project-news/21022019/phosagro-region-increased-sales-volumes-by-7-in-2018/
You might also like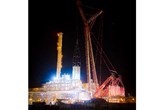 The company developed a solution to upgrade the plant's original towers by lifting out the old intact assets, and manoeuvring the modular replacements into position.