---
Western Potash Corp. has announced the following amendments to the Board of Directors of the company. The new Western Board consists of seven members, with Geoffrey Chang and Bill Xue as Executive Directors. Mr. Xia Qinglong is appointed an independent member of the Audit Committee. Mr. Zheng Mianping is a newly appointed independent member of the Board. Buddy Doyle remains an independent member of the Board. Patricio Varas and Patrick Power, founders of the Company, will serve as non-executive members of the Board both having resigned from their respective management positions.
Mr. Xia Qinglong, CEO of ChinaBlue Chemical Ltd, brings over 30 years experience in the resource extraction industry.
The Western board has also announced the appointment of Mr. Zheng Mianping, a renowned expert in the salt lake research and extraction industry. Mr. Zheng is a member of the Chinese Academy of Engineering and the President of the International Society for Salt Lake Research.
Mr. Bill Xue and Mr. Patrick Power are re-joining the Board of Directors and will continue to contribute their managerial, organisational and commercial experience.
At the management level of Western, the board announced that Geoffrey Chang, Chairman of the Board will assume the position of CEO from Patricio Varas. George Gao will assume the role of Chief Administrative Officer and Jerry Zhang will take on the position of Corporate Secretary.
Geoffrey Chang, Chairman and CEO welcomed Mr. Xia and Mr. Zheng, recognising their extensive industrial, technical and operational expertise.
"The contributions that our new board members bring will be particularly valuable as Western transitions towards project construction and commercialisation. Western is grateful for the contributions of Mr. Wang Hui and Mr. Wang Yinping who have tendered their resignations from the board as part of this restructuring. With the board and management streamlining, the Company is well positioned for the next critical stage in Western's development."
Read the article online at: https://www.worldfertilizer.com/project-news/10102016/western-potash-announces-board-appointments/
You might also like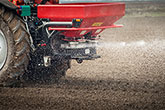 The company highlighted the role of the fertilizer industry by addressing global agricultural value chain challenges at the IFA conference in the Czech Republic.