Project news - 10 October 2016
Harvest Minerals Ltd has started infrastructure work in preparation of commencing open pit mining.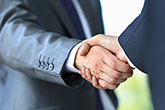 Western Potash Corp. has announced the following amendments to the Board of Directors of the company.
Mine Arnaud's budget for completion of its updated Bankable Feasibility Study has been unanimously approved shareholders.