---
In January 2017 SCHADE will deliver to PhosAgro another two full-portal reclaimers.
The AUMUND Group company, SCHADE Lagertechnik GmbH, is to supply multiple machines to the PhosAgro Cherepovets.
In 2014 SCHADE won the order for a full-portal reclaimer for the urea plant PhosAgro 1. The 200 tph reclaimer has a 54 m rail span and will be delivered in August 2016. The machine at Mendeleevsk was commissioned in the summer of 2015.
In January 2017 SCHADE will deliver to PhosAgro another two full-portalreclaimers, each with a capacity of 100 tph, a rail span of 44 m and weighing 144 t, for its new plant extension for the production of potassium salt, ammonium sulphate and NPK. With this equipment the very aggressive material can be reclaimed via two conveyor belts.
The package is completed by the order for a third full-portal reclaimer for PhosAgro with a capacity of 400 tph and a rail span of 44 m, which will also be delivered in January 2017. This machine will be used in the 3 x 10 000 t NPK production facility.
PhosAgro-Cherepovets was created by the merger of Ammophos and Cherepovetsky Azot in 2012.
Read the article online at: https://www.worldfertilizer.com/potash/28062016/schade-lagertechnik-gmbh-to-supply-machines-to-phosagro-cherepovets/
You might also like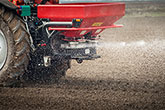 The company highlighted the role of the fertilizer industry by addressing global agricultural value chain challenges at the IFA conference in the Czech Republic.