---
PhosAgro has reported that its fertilizer output in 1Q21 increased by 2.2% y/y to 2.7 million t.
Production in the phosphate segment increased by 2.3% y/y due to an increase in the production of premium NPK fertilizers, whose share in the phosphate segment rose from 36% to 39%. This increase was made possible by upgrades to improve the output of phosphoric acid production equipment.
Output in the nitrogen segment increased by 2.3% y/y due to an increase in production of commercial ammonium sulphate.
Sulfuric acid production increased by 8% y/y to 1.8 million t. The reason for this considerable increase was that the new sulfuric acid production unit in Cherepovets, launched in early 2020, reached full capacity. With an annual nameplate capacity of 1.1 million t, the new production line will increase the company's self-sufficiency in sulfuric acid.
In 1Q21, sales of PhosAgro's phosphate-based fertilizers amounted to 2.1 million t, which was comparable to sales from a year earlier. The volume of fertilizer sales remained at a typical level for this period despite a sharp increase in prices.
The slight decrease in DAP/MAP sales volumes in 1Q21 to the level of the previous year was due to a delay in the dispatch of several vessels with products at the end of March due to severe ice conditions.
Other factors that had an impact on total sales were an increase in sales of premium brands of NPK(S) fertilizers in the European, Russian and Latin American markets, where a strong recovery in seasonal demand was observed.
As a result, the share of NPK(S) brands in total sales in 1Q21 increased to 49%, up from 47% a year earlier.
In 1Q21, PhosAgro sold 0.8 million t of nitrogen-based fertilizers, an increase of 12% y/y. An increase in sales was observed for all brands of nitrogen-based fertilizers, driven by both high seasonal demand and the affordability of fertilizers for end users.
Export sales of PhosAgro fertilizers increased 6.7% y/y to 2 million t, driven by a strong recovery in seasonal demand in Europe, Latin America and North America.
Domestic mineral fertilizer sales volumes in 1Q21 amounted to about 0.9 million t, a nearly twofold increase from the previous quarter and at the same level as 1Q20. Sales of NPK and ammonium nitrate grades were driven by the growth in the affordability of fertilizers for end users and the large size of the agricultural sector in Russia.
PhosAgro CEO Andrey Guryev said: "Constantly improving operating performance and increasing fertilizer production volumes are key objectives of our long-term development strategy. In our efforts to meet these goals, we are building a large production facility at our site in Volkhov. The first production lines with a nameplate capacity of nearly 300 thousand tonnes of MAP per year have already been launched, and once the project is completed, the total capacity of the new production units at the Volkhov site will reach almost 900 thousand tonnes, which will ensure long-term growth of PhosAgro's operating results.
"Global prices for phosphate-based fertilizers rose throughout the first quarter on the back of excellent affordability with respect to the primary crop basket, seasonal demand and low carry-over stocks in India, South Asia and the United States. Right now, the spring season is almost at an end, and we may see a slight decrease in demand during the off-season."
Read the latest issue of World Fertilizer in full for free: April 2021
The April issue of World Fertilizer begins with a regional report that examines the opportunities and challenges currently facing Latin America's fertilizer industry. The remainder of the issue is dedicated to a range of technical articles covering ammonia, blending and bagging, plant design, fertilizer cargo measurement and fertilizer storage. Our World Review of fertilizer projects in Africa and the Middle East, Asia Pacific, Europe and CIS and the Americas rounds off the issue.
Read the article online at: https://www.worldfertilizer.com/phosphates/22042021/phosagro-releases-1q21-operating-results/
You might also like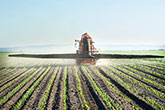 The new facility will deliver significant benefits to Western Australian grain growers.