US Department of Commerce to issue countervailing duty orders on phosphate fertilizers from Russia and Morocco
Published by Nicholas Woodroof, Editor
World Fertilizer,
---
The United States International Trade Commission (USITC) has determined that the US phosphate industry has been materially injured by imports of phosphate fertilizers from Morocco and Russia that are subsidised by the governments of those countries.
As a result of the Commission's affirmative determinations, the US Department of Commerce will issue countervailing duty orders on imports of phosphate fertilizers from Morocco and Russia, which will remain in place for at least five years.
The cash deposit rates for such imports are expected to be approximately 20% for Moroccan producer OCP, 9% and 47% for Russian producers PhosAgro and EuroChem, respectively, and 17% for all other Russian producers.
In response to the ruling, Mosaic President and CEO, Joc O'Rourke, said: "Mosaic employees are proud to support American farmers by producing high quality, reliable fertilizer. Today's decision upholds our belief that fair trade is a cornerstone of a healthy US economy, and that American farmers will benefit from having a more competitive American fertilizer industry."
OCP issued a statement saying that the decision came "despite the arguments presented by the OCP Group demonstrating that there is no basis for such duties, as well as significant voices opposed to Mosaic's petition from across American agriculture – distributors, associations and cooperatives - and elected officials in the Senate and House of Representatives."
The statement added that "OCP recognises the supply challenges that American farmers face and is determined to serve them in the future, and will explore the most appropriate options to do so."
Read the article online at: https://www.worldfertilizer.com/phosphates/12032021/us-department-of-commerce-to-issue-countervailing-duty-orders-on-phosphate-fertilizers-from-russia-and-morocco/
You might also like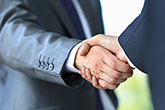 The company has announced that it has signed a definitive purchase agreement with Incitec Pivot Limited for IPL's ammonia production complex located in Waggaman, Louisiana.