---
EuroChem Group AG, a leading global agrochemical company, welcomes the decision of the US Department of Commerce to terminate a 64.93% antidumping duty imposed 30 years ago on shipments of urea from Russia, effective from 20 December 2016.
This follows the rescission by the US Department of Commerce of another longstanding antidumping duty of 253.98% on Russian-produced ammonium nitrate on 20 August 2016.
The antidumping duties against fertilizers produced in Russia were first introduced in the late eighties when the opening of the Soviet Union to international trade was perceived as a threat that could flood the US market with under-priced products.
EuroChem, a major producer of nitrogen-based fertilizers, including ammonium nitrate and urea, has been actively lobbying for the removal of these antidumping duties by the US authorities since the early 2000s and has initiated several antidumping procedures with the US Department of Commerce and the US International Trade Commission. These efforts resulted in EuroChem securing an individual 0% duty on deliveries of urea in 2008 and a preferential 0% duty on ammonium nitrate in 2014. While the Group operates production assets in several geographies, the presence of antidumping duties against product originating from Russia continued to represent certain risks for the Group, requiring substantial resources to confirm that its prices are fair and are non-dumping during annual antidumping reviews.
Dmitry Strezhnev, EuroChem CEO, commented: "We are pleased with this decision of the US Department of Commerce to revoke these longstanding antidumping duties. This marks the culmination of many years of hard work. I would like to thank our dedicated team of managers, lawyers, accountants and sales personnel who have helped to achieve this critical result, as well as express our appreciation to the team of legal advisors which was instrumental in these efforts."
Read the article online at: https://www.worldfertilizer.com/nitrogen/23012017/eurochem-welcomes-removal-of-antidumping-duties-on-russian-urea-and-an/
You might also like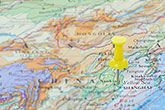 Casale's granulation process has been chosen for Xinjiang Xinji Energy's recycling project.