---
Could ammonia be the panacea for two of the greatest challenges facing the 21st century: food and energy?
Fertilizers Europe explores this question in a recently published 68 page report entitled, "Feeding Life 2030: The European fertilizer industry at the crossroads between nutrition and energy". The report looks at both how to feed a growing global population as efficiently as possible, as well as tackling climate change and perhaps providing a whole new means of producing and transporting energy.
It is widely recognised that mineral fertilizers feed approximately 50% of the world's population. It is also estimated by the United Nations that by 2030 the world's population will exceed 8.6 billion people. This is a billion more hungry people than are on the planet today and equates to an annual increase of 80 million people a year.
Ammonia produced via the Haber-Bosch process is the building block of all fertilizers but unfortunately it is also extremely energy intensive, consuming over 2% of the world's energy and generating over 1% of global CO2 emissions. It is widely accepted that to keep global warming under the 2°C target by 2100, humankind must emit no more than 600 billion t of additional CO2. Fertilizer manufacturers have successfully cut harmful emissions by 40% over recent years and farmers and growers have, and will, continue to focus on optimising overall fertilizer application and increasing yields. However, if the European Commission sets a target of zero emissions across all economic sectors by 2050 as it is currently proposing, then radical change is required in the manufacture and production of nitrogen fertilizers.
Whilst the Haber-Bosch process heralded the dawn of the Green Revolution a little over 100 years ago, ammonia synthesised using hydrogen derived from the electrolysis of water and powered by renewable resources could be the next great leap forward. This process is reliant on huge amounts of renewable electricity and Australia is leading the way with plans to build a US$10 billion combined wind and solar plant in Western Australia. Part of the 9000 MW of energy that will be produced by this project could be used to generate ammonia via the electrolysis of water for long-distance export. In this way, 'green ammonia' becomes more than merely decarbonised fertilizer. Because it liquefies easily under light pressure and chilling, it offers a means of storing and transporting renewable energy. Once the ammonia is transported across the ocean, much like LNG is today, to a power plant capable of burning ammonia, it can be used to generate carbon-free electricity and quite possibly replace LNG in the energy transportation market. It can also be converted back into hydrogen for use in fuel cell vehicles. Though not hugely popular in much of the world, in Japan there remains a huge market for fuel cell technology with an anticipated 800 000 vehicles in service by 2030, up from 2500 today.
Whilst the process is currently in its infancy, the potential to use renewable energy and water to produce inexhaustible supplies of carbon-free power, not to mention fertilizer, is huge. The Fertilizers Europe report can be read in full at www.fertilizerseurope.com/feeding-life-2030.
Read the article online at: https://www.worldfertilizer.com/special-reports/28122018/the-future-is-green-the-future-is-ammonia/
You might also like
Join our sister publication, World Cement, in Lisbon, 10 – 13 March 2024, for their first in-person conference and exhibition: EnviroTech.
This exclusive knowledge and networking event will bring together cement producers, industry leaders, technical experts, analysts, and other stakeholders to discuss the latest technologies, processes, and policies being deployed at the forefront of the cement industry's efforts to reduce its environmental footprint.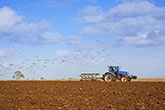 Azomures recently concluded contracts for the purchase of natural gas, which allow the resumption of fertilizer production at 50% of the total capacity of the factory, starting in October 2023.