---
The Russian Fertilizers Producers Association (RFPA) has welcomed the decision of a World Trade Organisation (WTO) panel to rule against EU anti-dumping duties being applied to Russian ammonium nitrate (AN), and said it expects the EU to abolish unlawful import duties.
The WTO panel reviewed a complaint by the Russian Federation and found that the cost adjustment methodology regarding prices for energy inputs used by the EU and a number of WTO member countries, which has been used to establish anti-dumping duties on ammonium nitrate supplied from the Russian Federation, is unlawful.
As follows from the WTO report published on Friday, the current application of antidumping measures by the EU was also recognised as unlawful.
"The Russian Fertilizer Producers Association welcomes the decision published today by the WTO panel in response to the Russian complaint against the EU regarding the cost adjustment methodology for energy inputs and anti-dumping measures for ammonium nitrate. We are pleased that the panel has agreed with Russia's arguments regarding the unlawful nature of cost adjustments for energy inputs, which have long been used by the EU and a number of WTO member states to accuse Russian mineral fertilizer producers of dumping," said the Head of the RFPA and CEO of PhosAgro Andrey Guryev.
Based on the panel's decision, Russian producers of mineral fertilizers have demanded an end to the practice of anti-dumping investigations by the EU, in line with the WTO requirements, and to immediately abolish anti-dumping duties on ammonium nitrate supplied from Russia, Guryev underscored.
The Russian Federation complaint to the WTO regarding the application by the EU of cost adjustments for energy inputs when taking anti-dumping measures against the supply of ammonium nitrate was filed in 2015. The essence of the claims was that the EU took into account European prices for gas and electricity when calculating the costs of Russian companies for the production of ammonium nitrate. Thus, accusations of dumping against Russian manufacturers were based on deliberately inflated cost estimates.
Anti-dumping duties on imports of ammonium nitrate from Russia have been applied by the EU for over 20 years. The last time the EU revised the size of the duty in 2018, it was set at US$32.71/t for all Russian suppliers.
Read the article online at: https://www.worldfertilizer.com/special-reports/28072020/russian-fertilizers-producers-association-comments-on-wtos-judgement-on-eu-anti-dumping-duties/
You might also like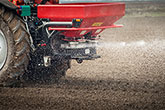 The company highlighted the role of the fertilizer industry by addressing global agricultural value chain challenges at the IFA conference in the Czech Republic.