Special reports - 27 December 2018
Bagtech discusses the advantages of implementing Industry 4.0 in the fertilizer manufacturing process.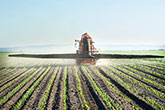 Gordon Cope details a number of recent developments that have given cheer to the fertilizer sector.
AK Tyagi, Nuberg EPC, India, takes a detailed look at the production of sulfur and provides a case study on a plant installation in Egypt.