---
In the first part of a two-part article, Shahram Hashemi, Shiraz Petrochemical Complex, Iran, reviews the development of Iran's petrochemical and fertilizer industry.
The development and transformation of the petrochemical industry in Iran has five distinct stages.
The start of activity began with the establishment of the National Company for Petrochemical Industries in 1963 and the Shiraz chemical fertilizer unit in the same year.
The initial expansion started in 1964 and continued until 1977. During this time, Razi Petrochemical Co., Abadan Petrochemical Co., Pasargad Energy, Kharg Petrochemical Co., Farabi Petrochemical Co., BIPC Petrochemicals and Shiraz Petrochemical Co. were established.
Due to the problems caused by the Iran-Iraq War, production was minimised and completion of BIPC Petrochemical's units was halted. However, the completion of semi-finished projects, including the expansion of Shiraz Petrochemical Co., continued.
The implementation of the first and second five-year development plans led to production reaching approximately 12 million t in 1999, the last year of the second five-year plan.
State of Iran's petrochemical industry
Iran's petrochemical industry has 56 active plants at present. If all projects in the second development plan are completed by 2Q21, the number of total active plants will reach 83. At present, 63 million t of feed is required for the petrochemical industry. However, according to the aims of the third development plan, running until 2Q25, the total number of petrochemical plants should rise to 109; feed demand is also expected to increase, with estimates indicating that the feed required for the petrochemical industry will reach 74 million t by 2Q25.
As a result of investment totalling US$53 billion, the current production capacity of the Iranian petrochemical industry is 66 million tpy and income from it is US$17 billion. Through the activation of projects in Iran up to 2Q21, generated through US$70 billion of investment, production capacity will reach 100 million t. In the third development, if all projects progress as planned, capacity by the end of 2025 will be 133 million t as a result of US$93 billion of investment.
Consumption, production rate and sales
The average consumption of chemical fertilizers in Iran is much lower than the global average of 101 kg/ha.
Ensuring a population's food security is one of the main tasks of the agricultural sector and, to achieve this goal, many different genetic and management methods have been developed. Meanwhile, soil fertility and consumption management of fertilizers as one of the most effective management factors have been considered by researchers and policymakers in the agricultural sector and proposed as key to the sustainable production of agricultural products.
Due to the increase in the price of subsidised fertilizers, the consumption of chemical fertilizers in Iran is approximately 2 million t, which according to the area under cultivation means that the amount of nutrients per hectare is approximately 55 kg, compared to 150 kg/ha. in Australia, 354 kg/ha. in Belgium, 220 kg/ha. in Germany, 527 kg/ha. in Ireland, 313 kg/ha. in England, 79 kg/ha. in India, and 200 kg/ha. across the EU.
Domestic sales of petrochemical products in Iran grew at an average of 6.3% each year from 2011 to the end of 2018. The production rate in 2011 was 11.86 million tpy and 17.7 million tpy in 2018. Exports also increased by 2.7%, from 18 million t in 2011 to 20.3 million t in 2018, according to the average annual growth.
The three largest petrochemical holding companies on the Iranian stock exchange in 2016 were included in Independent Commodity Intelligence Services' (ICIS) ranking of the world's chemical and petrochemical companies by sales. The three companies each held a higher position in 2016 than in previous years. According to the 2016 list, the Persian Gulf Petrochemical Holding Co. is ranked 34th.1 The company was ranked 35th in the 2018 list.2 It was also ranked third by ICIS in the 'Middle East & Africa Leaders' section of its 2019 Regional Leaders report.3
References
Independent Commodity Intelligence Services, 'ICIS Top 100 Chemical Companies Listing – 2016', www.icis.com/explore/resources/icis-top-100-chemical-companies-listing-2016
Independent Commodity Intelligence Services, 'ICIS Top 100 Chemical Companies of 2018', www.icis.com/explore/resources/icis-top-100-chemical-companies-of-2018/
Independent Commodity Intelligence Services, 'ICIS Regional Leaders 2019', www.icis.com/explore/resources/icis-regional-leaders-2019/
Read the article online at: https://www.worldfertilizer.com/special-reports/26042021/innovation-in-iran/
You might also like
Join our sister publication, World Cement, in Lisbon, 10 – 13 March 2024, for their first in-person conference and exhibition: EnviroTech.
This exclusive knowledge and networking event will bring together cement producers, industry leaders, technical experts, analysts, and other stakeholders to discuss the latest technologies, processes, and policies being deployed at the forefront of the cement industry's efforts to reduce its environmental footprint.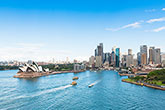 Te´cnicas Reunidas and Allied Green Ammonia have agreed to commence the first phases of a Green Hydrogen and Green Ammonia production facilities at Northern Territory, Australia.