---
Laura Hayward, AGI, expresses the necessity of investing in Africa's fertilizer industry.
The African fertilizer sector is facing challenges in a variety of areas including: low fertilizer consumption and agriculture productivity levels; limited access to information, knowledge, and data on existing markets; and the overlapping and duplication of efforts by development initiatives across the continent. One of Africa's largest difficulties is the overall cost of fertilizer itself. Four main components continue to increase costs for farmers that include port charges, inland transportation costs, marketing and distribution costs, and finance costs. To overcome these challenges, more investments in local fertilizer production must take place to reduce importing costs.
In 2017, the Food and Agriculture Organization (FAO) classified 32.5 million people in this region as undernourished. The substantial amount of food imported results in a crucial need for agriculture production. This massive demand for food production in the African region, that contains 10 of the poorest 25 countries in the world, is an issue that AGI can offer solutions to in terms of agricultural development.
AGI is a global leader in the planning, engineering, and manufacturing of full solutions and systems across five platforms: grain, fertilizer, food, feed, and seed. It partners with its customers on six continents to leverage and engineer unique market specific systems. These systems are delivered for farm and commercial agriculture operations and applications that include storage, handling, structural, processing, and controls, all based on and brought together with engineering and project management. AGI purchased Yargus Manufacturing as an international leader in the fertilizer equipment market, establishing a collaboration of resources and a global powerhouse in the agriculture and fertilizer market. Combining AGI's 22 years of agriculture experience with Yargus' 50 years of fertilizer blending experience, AGI continues to provide solutions to agriculture markets. AGI's technology and infrastructures are useful for new and growing markets that need to produce substantial amounts of fertilizer, grain, or other commodities.
In relation to Africa's challenges with fertilizer, AGI Fertilizer provides the whole solution for fertilizer plants to excel in handling both dry and liquid materials. Its brands specialise in fertilizer handling, including AGI Yargus, AGI Junge, AGI CMC, AGI Airlanco, AGI VIS, AGI NuVision, AGI MMS, AGI Union Iron and more, AGI Fertilizer provides additional solutions to customers when they are building or upgrading their facilities. AGI Yargus provides a distinctive ability to service all requirements from small to large projects based on the wide project range available from the AGI Fertilizer group of brands.
African blending plants have an installed capacity of approximately 5.4 million t based on the annual output of the 47 fertilizer processing plants listed in 18 countries. In West Africa, the installed capacity is approximately 3.2 million t, 43% of which is in Nigeria. In East and Southern Africa, the installed capacity is approximately 2.2 million t with 20% in Zimbabwe. AGI Yargus recognises this large growth in fertilizer blending and bagging systems and has grown a track record of being the first supplier to act on these challenges.
Read the article online at: https://www.worldfertilizer.com/special-reports/21122018/crucial-development/
You might also like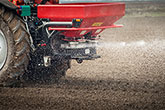 The company highlighted the role of the fertilizer industry by addressing global agricultural value chain challenges at the IFA conference in the Czech Republic.