---
Nutrien is required by orders of the Chinese and Indian competition authorities to divest its shareholding interest in SQM as a condition of receiving merger approval.
Tianqi has agreed to bid for a certain number of the shares through an auction process on the Santiago Stock Exchange. Tianqi's proposed purchase has been thoroughly reviewed and approved by all competition authorities where required elsewhere in the world. Even though pre-closing review was not required, the Chilean Antitrust Regulator (FNE) has also thoroughly reviewed the proposed transaction and reached agreement with Tianqi on specific, protective remedial measures, which in the view of FNE (and Tianqi) address any and all potential competition issues. FNE consulted SQM during this review. As is the normal process, the agreed upon settlement agreement must be approved by the Tribunal de Defensa de la Libre Competencia (TDLC) of Chile. The TDLC has conducted a public hearing, which was attended by FNE, Tianqi and several intervening parties including Nutrien and SQM.
SQM claims to object to Tianqi investing in the company because it is in the lithium business. Potash Corporation of Saskatchewan was a large minority stakeholder in SQM and appointed directors to SQM's Board (also a significant potash producer) for almost 15 years. Over that time period, the SQM Board did not identify this as an issue.
Pursuant to the FNE-Tianqi settlement agreement, Tianqi's rights as a minority shareholder are significantly lower than those held by Potash Corporation of Saskatchewan. The only difference appears to be the country of origin of the minority equity shareholder. Publicly traded companies do not decide who can buy their shares as a minority owner. The actions that SQM have taken also brings into question the company's openness to foreign investment, a position that can only harm SQM shareholder value.
Nutrien is currently evaluating all potential responsive actions.
Read the article online at: https://www.worldfertilizer.com/special-reports/17092018/nutrien-responds-to-statement-from-sqm-on-sgreement-between-tianqi-and-the-fne-in-chile/
You might also like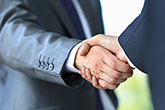 The company has announced a new joint venture developing green ammonia and fertilizer projects with the focus on Central America and the Caribbean.