---
K+S Group, an independent minerals company, has announced that revenues rose by around 16 %, a significant increase in the 3Q18.
This rise in revenue was mainly due to higher sales volumes of potassium chloride from the new potash mine in Canada and higher market prices for potash and magnesium products. Higher volumes and prices in the salt business unit also contributed to the positive sales development. The EBITDA operating result was negatively impacted by weather-related production stoppages at Plant Werra and a disproportionate increase in transportation costs and fell to €36 million (3Q17: €77 million).
"The extreme drought and higher logistics costs have restricted our growth potential in the third quarter," said Dr. Burkhard Lohr, CEO of K+S. "The operating performance in Bethune and Germany, on the other hand, is starting to improve. We are making good progress with the implementation of our 'Shaping 2030' strategy. This will have a positive effect on our future results".
Due to production volumes of the Bethune mine and increased fertilizer prices, the unit's sales increased by 18 % in the third quarter. This was offset by the loss of earnings for the production stoppages at Plant Werra and higher costs for the off-site disposal of wastewater due to the extreme drought, so that the EBITDA fell to around € 3 million (17: € 42 million).
As part of the implementation of the detailed concept, K+S has been working in the new organisational structure since the beginning of the 4Q18. The company is also making good progress in implementing concrete measures to reduce costs and increase efficiency. The first synergies are already being leveraged. Confirming previous statements, it will reach more than €150 million/year from the end of 2020.
The weather-related stoppages at Plant Werra had a negative impact on the EBITDA of around €80 million in the reporting quarter. Owing to the prolonged extreme drought, further extensive shipments of saline water from Plant Werra for off-site disposal and related additional expenses will therefore be necessary in the 4Q18. Against this backdrop, K+S now expects EBITDA in the range of €570 - 630 million for the 2018 financial year (2017: €577 million). The upper and lower end of the range essentially reflects the weather-related opportunities and risks that arise for the remainder of the year from the de-icing salt business, but also from the water levels and associated domestic transports.
Further potash production stoppages cannot be ruled out until the end of the year, due to the persistent extreme drought, and are not included in the named range.
K+S continues to expect a significant improvement in adjusted free cash flow this year compared to the previous year, up to a positive free cash flow in 2019.
Read the article online at: https://www.worldfertilizer.com/special-reports/15112018/ks-release-3q18-figures/
You might also like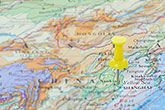 Casale's granulation process has been chosen for Xinjiang Xinji Energy's recycling project.