---
Gensource Potash Corp., a fertilizer development company focused on sustainable potash production, has announced that Brent Cherkas, Professional Engineer, has joined the company. Brent will take on the role of Project Adviser with Gensource and will be a key participant in realising the Tugaske Project.
With his experience over his 40-year career, Mr Cherkas is a veteran engineer in the potash industry. He has previously worked in a number of roles ranging from design engineering through to operations, maintenance and large project execution. His career started at Potash Corp. of Saskatchewan (PCS) where he worked for 31 years in design engineering, plant engineering, maintenance engineering, maintenance superintendent, project management and in the Chief Maintenance Engineer role at the PCS head office, Allan Division and Cory Division. Ultimately, Mr Cherkas took on the role of Project Coordinator at PCS Cory where he was responsible for the completion of the US$1.4 billion, 2 million tpy Cory Expansion Project.
Following his career with PCS, Mr Cherkas took on several project adviser roles with both small and large companies, culminating with his work at the K+S Potash Canada GP Bethune mine where his technical and project advisory work was key to completing final items on the project to help it begin its rampup to full production.
"We are very pleased to welcome Brent to the team," said Mike Ferguson, President and CEO. "Brent is the personification of the range of skills and experience that any company in the potash industry would want and need. As Gensource grows its team to execute the Tugaske Project, we start with the most experienced and most skilled to not only provide the right advice and input early in process, but also to help train, mentor and build the team that will ultimately commission and operate Tugaske. Brent is the first key addition to the project execution side and will be central in helping the company succeed in executing and operating the project."
"I am very happy to join the Tugaske Project at Gensource", said Mr Cherkas. "I like the innovative and small-scale approach to new potash production Gensource is employing. I am impressed with the team being assembled and look forward to using my experience to help make the Tugaske Project an outstanding success."
Read the article online at: https://www.worldfertilizer.com/special-reports/15022021/gensource-potash-appoints-new-project-adviser/
You might also like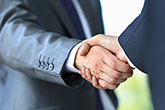 The company has initiated discussions with Unigel Participações S.A. to analyse joint business involving opportunity development in the areas of fertilizers, green hydrogen and low-carbon projects, in line with the revision of the strategic elements for Petrobras' Strategic Plan 2024 – 2028.