---
Russian mineral fertilizer distribution network, PhosAgro-Region, and Exact Farming have signed a cooperation agreement on the development of digital services for Russian customers of PhosAgro's mineral fertilizers. The companies plan to jointly develop applications for remote monitoring, for evaluating and improving the performance of mineral nutrition systems based on PhosAgro products, and for developing and distributing agronomic expertise.
At the Agroholdings of Russia 2020 conference, hosted by Agroinvestor, the partners presented preliminary results of a joint project to deploy a digital system that uses the Exact Farming app to remotely monitor the effectiveness of mineral fertilizers, as well as a system developed jointly by the two companies that uses NFC tags to automatically record mineral fertilizer data. The data from the NFC tags, which will be integrated into PhosAgro fertilizer labels, are read by mobile phones and automatically transmitted to Exact Farming's satellite agronomic monitoring system. Specific volumes and grades of fertilizer will thus be associated with specific geo-coordinates. In the future, this system will make it possible to track the condition of crops while taking into account data on the mineral nutrition used.
The system currently covers more than 23 000 ha. in 20 regions of the country. As a result of remote monitoring and the subsequent correction of the mineral nutrition used, the yield in fields covered by the project increased by 10% in 2020, resulting in additional profit for agricultural producers of RUB5000/ha.
As part of the partnership agreement, PhosAgro-Region and Exact Farming plan to expand the system to cover over 100 000 ha. in 2021. New automated services will be made available that provide agronomic support for users, including agrochemical soil analysis and the development of mineral nutrition systems based on a constantly updated database on the effectiveness of the use of PhosAgro mineral fertilizers in various agrometeorological conditions.
Andrey Vovk, CEO of PhosAgro-Region, said: "The relationship between PhosAgro-Region and Exact Farming is based on a mutual understanding of the potential to improve the efficiency of agricultural production in Russia through scientific and technical innovations. The development of digital agronomic services using the Exact Farming application is a logical continuation of PhosAgro's initiative to digitise the mineral fertilizer industry. Two years ago, we started work on the introduction of a mechanism to track the movement of PhosAgro mineral fertilizers along the entire logistics chain – 'from factory to farm' – so as to minimise losses and prevent the theft of fertilizers during transport. The next step is to assess the impact of the use of mineral fertilizers in terms of increasing profitability per ha. in every one of the more than 70 regions where PhosAgro-Region operates. We are also going to focus on joint educational projects aimed at teaching our clients how to use state-of-the-art digital services independently and in real-world contexts."
Anna Kudinova, CEO of Exact Farming, said: "By combining the capabilities of innovative technologies with PhosAgro-Region's industry expertise and PhosAgro's high-quality products, we are giving our agricultural producers a convenient and reliable tool to help them solve pressing problems. We are focused on the needs of our customers, just as our partners are, so we are already making new solutions part of our future collaboration, while improving existing ones at the same time. A similar understanding and approach to creating value for our customers is the key to successful long-term cooperation between our companies."
Read the article online at: https://www.worldfertilizer.com/special-reports/14122020/phosagro-region-and-exact-farming-sign-cooperation-agreement/
You might also like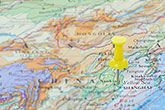 Casale's granulation process has been chosen for Xinjiang Xinji Energy's recycling project.