---
Wintershall is celebrating and commemorating its 125th birthday by publishing information and staging events in the anniversary year.
Wintershall was founded exactly 125 years ago, on 13 February 1894. "A proud birthday only few companies get to experience," says Mario Mehren, Wintershall's CEO. Wintershall is now Germany's largest internationally operating crude oil and natural gas producer. It was a long journey to achieve that: The company was originally founded to produce potash for use as a fertilizer.
From potash to crude oil
Heinrich Grimberg and Carl Julius Winter registered a joint drilling company for mining potash in February 1894. Its name was made up of the founder's name "Winter" and the old Germanic word "Hall" for salt: hence Wintershall.
The company then took a completely new direction following a chance occurrence: an incursion of crude oil in a potash pit in 1930. That opened up a new field of business, since potash production had slumped as a result of the global economic crisis. This oil discovery and the proximity between the potash and crude oil were an opportunity Wintershall capitalised on. For example, Wintershall took a stake in two companies that had high-yielding oil sources near Hanover in 1931.
Wintershall is taking a critical look at its own history in its anniversary year. For example, the Reich Drilling Program that was launched in the mid-1930s and in which Wintershall at the time participated. "We are tackling this part of our history head on," says Mehren. "Openly and transparently." Renowned historians are currently investigating the conduct of the German oil industry as a whole and Wintershall's representatives back then. The results will be presented at a symposium held by the German Society for Corporate History in the second half of the year.
Wintershall includes an internal traveling exhibition, as well as special Internet sites (www.wintershall.com) and a school competition. A ceremony is also planned in Kassel's documenta hall in November.
Read the article online at: https://www.worldfertilizer.com/special-reports/13022019/125-years-of-wintershall/
You might also like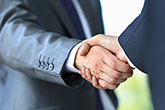 The company has announced a new joint venture developing green ammonia and fertilizer projects with the focus on Central America and the Caribbean.