---
Gordon Cope, Contributing Editor, finds that Latin America's agricultural sector has tremendous potential.
Latin America, stretching from Mexico to the southern tip of Argentina, is home to over 650 million people. Agriculture is a signifi cant part of the region's economy, accounting for an average of 4.7% of GDP. Crops cover approximately 190 million ha., and pasture a further 570 million ha. Major crops and livestock include corn, wheat, soybeans, coffee, fruits and vegetables, pork, beef and poultry. The region is also a major exporter of foodstuffs; in 2017, its agricultural trade surplus stood at US$104 billion.
However, Latin America's population is also growing at a rate of slightly more than 1% and is expected to reach 1 billion people by 2050. While the nature and output of each country's agricultural sector varies widely, one aspect is universal; access to both fertilizers and expert agronomic advice is essential to meeting their needs.
Mexico
Mexico is one of the three agricultural powerhouses of Latin America, along with Brazil and Argentina. Situated due south of the world's largest importer of food, the country is a major producer of winter fruit, vegetables and other agricultural commodities. In 2017, Mexico (along with Peru, Guatemala and Costa Rica), accounted for 75.4% of total fresh vegetable exports to the US. In the case of bananas and avocados, Mexico is Latin America's lead supplier in exports of US$6 billion and US$3.5 billion respectively. In 2018, the total value of Mexico's food exports stood at US$32.5 billion.
NPK fertilizer consumption in Mexico has more than doubled since 2008, from 53 kg/ha. to over 110 kg/ha. in 2017. Annual nitrogen fertilizer consumption for the latter year stood at 1.5 million t, potash at 262 000 t, and phosphate at 379 000 t. Mexico has approximately 2 billion t of phosphate bearing rock, primarily in sediments in Baja California. In 2017, it produced almost 2 million t.
Bacanora Lithium is a mining company with a major lithium and potassium sulfate deposit in the northeast of the state of Sonora. The salts, deposited in clays, are close enough to the surface to allow open pit mining. Bacanora intends to use an evaporation and crystallisation system to produce 35 000 tpy of lithium carbonate (for use in batteries), and 30 000 tpy of sulfate of potash (SOP).
In 1999, urea production in Mexico essentially collapsed when domestic natural gas prices were tied to (then expensive) US gas prices; the country had to rely on importing almost 2 million tpy to meet domestic fertilizer demand. In 2014, Pemex purchased two idle urea plants with a total capacity of 1 million tpy, but technical difficulties and natural gas feedstock bottlenecks stunted ammonia production. Even with Pemex importing over 50 000 tpm of ammonia, output of urea has been limited to 25% capacity.
Proman Group, based in Switzerland, has been advancing a world-class greenfield ammonia plant on the west coast of Mexico for several years. Work on the 800 000 tpy Topolobampo facility, located in the state of Sinaloa, has been frequently suspended by environmental concerns over the potential effects on the nearby coastal lagoon, which has been classified a World Heritage Site. In 2018, the company secured a feedstock gas supply from the US and resumed construction, but in March 2019 a federal judge ordered construction to cease on the US$5 billion plant. In November 2019, however, the project was included in the country's National Infrastructure Plan for 2020 – 2024.
Brazil
Brazil is Latin America's leader in agriculture by a fair margin. The sector has experienced a growth rate averaging 4.1% over the last 25 years. In 2018, it produced 101 million t of maize, 120 million t of soybeans and 30.5 million t of sugar. It is the world's largest exporter of coffee, and a major beef, pork and poultry exporter. It is Latin America's largest agricultural and food exporter, having sent almost US$80 billion in goods abroad in 2017.
Brazil's success has been attributed to a combination of sound fiscal and regulatory policy as well as decades of R&D into finding the best available use for its land. Brazil's EMBRAPA is the largest agricultural research institution in Latin America. Over the last several decades it helped transform the country's vast prairie lands by introducing modern fertilizer and no-tillage technologies as well as livestock breeds and plants suitable to the soil and weather conditions. Of the US$5 billion annually spent on agriculture R&D in Latin America, Brazil accounts for over 50% of expenditures.
Brazil is the world's second largest producer of ethanol, after the US. The primary feedstock is sugarcane. The country is expected to produce 642 million t of sugarcane in the 2019 – 2020 growing season, the majority of which will be converted to 35.5 billion l of ethanol. Corn is also being used to produce ethanol with an estimated 1.7 billion l in 2020.
Much of Brazil's agricultural success is due to the optimised use of fertilizer. In 2017, the country consumed 4.8 million t of nitrogen fertilizer, 6.5 million t of phosphate fertilizer and 5.8 million t of potash. The intensity has risen from 126 kg/ha. in 2006 to over 186 kg/ha. in 2017 (well above the world average of 140 kg/ha.). The consumption of fertilizer is generally higher for export crops; domestic bean production, for instance, consumes less than 40 kg/ha., while coffee and cane approach 200 kg/ha.
US-based Mosaic operates five phosphate mines – previously owned by Vale – in the country with a capacity of 4.8 million tpy. In April 2019, the company had to suspend operations for a month at its Catalao mine and for five months at its Tapira mine after failing to obtain stability certification for several tailings dams. The new regulations were a result of a failure at Vale's Brumadinho mine tailings dam that killed hundreds. Mosaic was able to use reserves from operations in Florida, US, to meet domestic blending requirements.
To read the rest of this regional report, download World Fertilizer's April issue for free: https://bit.ly/2XjjCEt
Read the article online at: https://www.worldfertilizer.com/special-reports/10042020/ready-for-takeoff/
You might also like
Join our sister publication, World Cement, in Lisbon, 10 – 13 March 2024, for their first in-person conference and exhibition: EnviroTech.
This exclusive knowledge and networking event will bring together cement producers, industry leaders, technical experts, analysts, and other stakeholders to discuss the latest technologies, processes, and policies being deployed at the forefront of the cement industry's efforts to reduce its environmental footprint.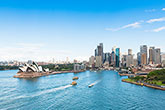 Te´cnicas Reunidas and Allied Green Ammonia have agreed to commence the first phases of a Green Hydrogen and Green Ammonia production facilities at Northern Territory, Australia.