---
Troublesome levels of carbonate impurities are found in most phosphate deposits across the globe. With rich phosphate ores depleted, carbonates now affect a greater proportion of ore reserves globally than silica and other gangues. The world's growing demand for food now requires that these high-carbonate phosphate ores be mined not in the future, but today.
Fertilizer producers find carbonate minerals such as dolomite in phosphate ore particularly undesirable because of the magnesium it contains. High magnesium levels in phosphate rock create a multiplicity of problems in downstream fertilizer production, including high phosphoric acid viscosity, acid filtration difficulties and scale buildup on pipework. Separating carbonate minerals from phosphate by flotation can be problematic due to their similar surface properties – phosphates and carbonates respond the same during conventional fatty acid flotation as both are oxide minerals and contain similar cations.
Unfortunately, there is no universal reagent scheme or flowsheet design to separate unwanted carbonate from phosphate. Since each ore is unique, ArrMaz recommends a custom design approach whereby reagent suite formulation, process flowsheet design and equipment selection are developed together from the start.
ArrMaz has made significant advances in carbonate rejection, developing robust carbonate and silica collectors under its CustoFloat® and CustAmine® product lines, to beneficiate carbonate-laden phosphate deposits around the world. Many of these reagent solutions have been applied at full scale commercial plants, while others have been proven to work in pilot-scale flotation and laboratory testing. The following are three ArrMaz case studies that highlight the flotation results achieved for phosphate deposits in Africa, China and Florida. Each case study demonstrates how collector technology and flowsheet design can be married together and customised to individual ore characteristics, to optimise the rejection of calcite, dolomite, silica and other impurities, and enhance both phosphate grade and recovery.
Solving Africa's ore challenges: carbonate and silica
In Africa, phosphate producers are faced with the challenge of reducing the amount of carbonate, silica and magnesium present in the ore. As lower-cost, simpler-to-beneficiate ores are depleted, producers must mine and process ores that are higher in carbonate, magnesium and silica. In many cases, flotation is the optimum method used to yield the grade required to produce an economically usable product for fertilizer production.
ArrMaz is currently working with major deposits across Africa, and has developed collectors that work stepwise to remove carbonate and silica from Africa phosphate deposits. In this case study, the reagent scheme consists of an anionic collector, CustoFloat M430, and a cationic collector, CustAmine 2048A, combined into a double-reverse flotation flowsheet as shown in Figure 1. This flowsheet was designed to separate fluorapatite (58%) from dolomite (17%), calcite (15%) and silica (6 – 7%) gangue. The feed assay for this ore was 24.5% P2O5, 3.8% MgO and 6.1% insoluble material (SiO2).
Using this flowsheet, economically successful phosphate recovery and grade were achieved, while MgO and insolubles were reduced. Laboratory results proved that good concentrate grades (31.7% P2O5) could be achieved with low levels of MgO (0.4%) and insolubles (3.0%) for an excellent overall P2O5 recovery (90.6%).
This new reagent scheme for double-reverse flotation delivers the following key benefits:
Better performance at lower cost.
It can be easily adopted into a current plant setup.
It is more tolerant to changes in ore characteristics, such as slimy and low-grade feeds.
It has no foaming issues.
ArrMaz laboratory results demonstrated similar benefits when using CustoFloat 714 for dolomite flotation and CustAmine 2060A for silica flotation in additional double-reverse flotation tests on another Africa ore deposit.
This is an article written for World Fertilizer's March 2018 issue and abridged for the website. Subscribers can read the full issue by signing in. Non-subscribers can access a preview of the issue here.
Read the article online at: https://www.worldfertilizer.com/special-reports/09032018/solving-global-phosphate-challenges/
You might also like
Join our sister publication, World Cement, in Lisbon, 10 – 13 March 2024, for their first in-person conference and exhibition: EnviroTech.
This exclusive knowledge and networking event will bring together cement producers, industry leaders, technical experts, analysts, and other stakeholders to discuss the latest technologies, processes, and policies being deployed at the forefront of the cement industry's efforts to reduce its environmental footprint.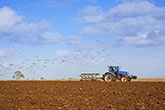 Azomures recently concluded contracts for the purchase of natural gas, which allow the resumption of fertilizer production at 50% of the total capacity of the factory, starting in October 2023.