---
Nutrien Ltd. announced today its 4Q18 results, with net earnings from continuing operations of US$296 million (US$0.482 per share).
4Q18 adjusted net earnings was US$0.54/share and adjusted EBITDA was US$932 million. 2018 adjusted net earnings was US$2.69/share and adjusted EBITDA was US$3.94 billion.

Highlights
2018 Annual Retail EBITDA rose by 5% compared to the previous year, despite a condensed US fall application season, which resulted in 4Q18 Retail EBITDA decreasing by 11% from the same period last year. Customers representing more than 50% of North American Retail sales are using Nutrien Ag Solutions digital platform within 6 months of launch.
Potash EBITDA was 59% higher in the 4Q18 compared to the same period last year due to higher net selling prices, record 4Q18 sales volumes and lower cost of goods sold per tonne. Potash adjusted EBITDA increased by 48% in 2018 compared to the previous year.
Nitrogen EBITDA was up 63% in the 4Q18 compared to the same period last year due mainly to higher prices across all products. Nitrogen EBITDA increased by 43% in 2018 compared to the previous year.
Free cash flow was US$2.0 billion in 2018, representing a 53% increase over 2017.
The company increased the maximum number of shares that may be acquired under its normal course issuer bid (NCIB) to approximately 8% of outstanding shares. Nutrien has been active on the share repurchase programme, repurchasing an aggregate of 42 million shares under the NCIB that expires February 22, 2019.
The company closed on the sale of its Sociedad Química y Minera de Chile S.A. (SQM) series A shares in December of 2018. Net proceeds received from the required sale of all equity investments totalled US$5.3 billion in 2018, above previous expectations.
The company achieved US$521 million in annual run-rate synergies as at December 31, 2018 and is expected to achieve the annual run-rate synergy target of US$600 million by the end of 2019.
The company full-year 2019 adjusted net earnings per share and adjusted EBITDA guidance is US$2.80 to US$3.20/share and US$4.4 to US$4.9 billion, respectively.
"Nutrien delivered excellent operational and strategic results in 2018, and we see further opportunities for significant earnings growth and business improvement in 2019,"commented Chuck Magro, Nutrien's President and CEO. "We delivered a 32% increase in earnings, exceeded Merger synergy targets, and received US$5.3 billion in net proceeds from the sale of equity investments. We remain focused on prudent capital allocation, having already returned US$2.8 billion to shareholders, while investing in our global retail network and maintaining a strong balance sheet. Our results this quarter demonstrate the resilience in our earnings and cash flow, given this was one of the wettest fall seasons in the US in over 100 years. For 2019, we expect strong crop input demand in the first half of the year due to the limited application window in the fall of 2018, a recent improvement in crop prices and higher corn acres in the US."
Read the article online at: https://www.worldfertilizer.com/special-reports/07022019/nutrien-reports-resilience-in-4q18-which-was-impacted-by-weather-challenges/
You might also like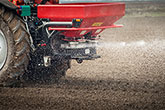 The company highlighted the role of the fertilizer industry by addressing global agricultural value chain challenges at the IFA conference in the Czech Republic.