---
Ostara Nutrient Recovery Technologies Inc. (Ostara) and Bruce Oakley Inc. (Oakley) have announced that they have entered into a letter of intent (LOI) providing for the acquisition by Ostara of Oakley's fertilizer granulation facility and certain related assets located on the Mississippi river at Oakley's warehousing and logistics terminal in St. Louis, Missouri, US.
The acquisition and certain related transactions are intended to further support the production scale-up of Ostara's Crystal Green® brand of sustainable phosphorus-based, continuous-release fertilizer products.
Pursuant to the LOI, Oakley will also provide long-term, full-service terminal support for Ostara, including bulk storage, inbound and outbound logistics services via truck, rail and barge, and raw materials supply. Completion of the acquisition and related transactions is subject to final negotiation and execution of definitive agreements, currently anticipated to occur in December 2020.
Engineering and design work to increase current facility production capacity is currently underway and Ostara anticipates first phase production to commence within 12 months of the acquisition closing. In parallel, Ostara has initiated the sourcing of personnel to fill key project and production roles. Once fully optimised, Ostara expects that output from the facility will increase Ostara's current aggregate production capacity tenfold. Ostara also continues to prioritise significant targeted capital investments in its existing Florida production facility, directed at optimising and increasing capacity to better serve Ostara customers in the Southeastern USA and throughout North America.
"The purchase of Oakley's St. Louis granulation facility will enable Ostara to build on the successes achieved at our Florida facility which continues to be overwhelmed by the demand for our Crystal Green fertilizers, and we are extremely pleased to be executing on the final steps to secure these strategically-located assets", said Dan Parmar, President and Chief Executive Officer of Ostara.
Justin Oakley said: "Oakley is honoured to partner with Ostara and we look forward to supporting Ostara's innovative line of Crystal Green products. This transaction and the resulting on-going long-term relationship will allow both companies to use their core competencies in realising common goals. We have enjoyed working with the Ostara team to date and look forward to a joint success."
Read the article online at: https://www.worldfertilizer.com/special-reports/06112020/ostara-acquires-fertilizer-granulation-facility-from-oakley/
You might also like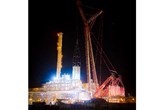 The company developed a solution to upgrade the plant's original towers by lifting out the old intact assets, and manoeuvring the modular replacements into position.