---
Fertilizer is a low-cost product which is industrially produced in large tonnages. The actual granulation processes are well established and understood. However, in the production of a good and stable fertilizer, many different factors play an important role, so the close monitoring of the production, and especially of the granulation process, is essential. Online control of the particle size and shape helps to optimise the process and to increase product quality because it continuously generates reliable measurement values which are immediately available.
Granulation is the forming of small particles or powders into larger agglomerates/granulates. The usual procedures for this are:
Granulating.
Tableting.
Pelletising.
Sintering.
Briquetting.
Granulation serves to improve the physical properties of fertilizer and is utilised to produce particles with optimum size and shape. This ensures that the end-product possesses the properties required for storage, transport, and ultimate use.
The specifications of fertilizers regarding the particle size distribution place high demands on the manufacturer. The granulate is generally sized between 1 and 5 mm, with more than 90% between 2 and 4 mm. A uniform particle size ensures an even coverage of the granules on the field, as optimally shaped granules will result in an efficient and controlled leaching into the soil.
Quality control during production involves, besides multiple chemical measurements, a preferably uninterrupted monitoring of particle size and shape. The bottom line is that if the specifications for particle size and shape are not met, manufacturers must expect significant financial impact due to reduced product performance and frequent complaints from customers.
Verification of the grain size range
After granulation, coarse and fine particles are separated by screening. In traditional analysis, a sample is retrieved and taken to the laboratory to be measured by sieve analysis. The results are entered into a data base either manually or automatically. Thereby, the final product which is fed into storage is only monitored with respect to particle size and the particle size distribution is only available to the operator every 4 to 8 hours. For a plant that runs 24/7, the product is only tested 3 – 6 times per day. In addition, since production runs 7 days a week, but the laboratory is working only 5 days a week, the product can go almost 3 days without measurement.
Optical sieve analysis of fertilizers
In the 1980s, Norsk Hydro in Norway searched for the possibility of online particle size measurement to avoid costly delays and to better monitor the process. Initial tests with an automatic screening machine were not successful due to several problems, including the fact that granules became stuck in the sieve apertures and could not easily be removed. Further tests included laser-based measuring systems, but these were not suitable due to the rough production environment. Vibration, humidity, and dust made their use impractical.
Together with production engineers, a system was developed utilising dynamic image analysis. The goal was to develop a robust, reliable system that delivers particle size results matching those obtained by sieve analysis and provides additional information about particle shape.
Research and development quickly made it clear that particle shape also provides a very important statement about the quality of the products and process control. The 3D particle analysis that is available today measures the length, thickness, width and area of the particles. Thus, particle shape is reported very precisely. If granulation produces edges on the particles, no fine particles are measured directly after granulation. However, these edges break off during transport of the granules and are crushed by the larger granules. This results in a proportion of fines that cannot be detected in the freshly produced granulate. The exact shape analysis, however, provides this information immediately and online, predicting a possible formation of dust during later handling.
As a result, Microtrac developed the CAMSIZER 3D system, which provides a patented measurement methodology for 3D size and shape of the measured particles which fulfils all requirements.
This measurement method provides better results regarding particle shape, particle volume and particle size compared to 2D measurement and is currently used by numerous granulate manufacturers.1
Reference
VAN BRANDENBURG, H., 'Doorbraak in het voorkomen van caking en stofvorming.' Solids Processing, Nr. 6, S. 16-17, (November 2016).
This is an abridged version of an article originally published in the March 2021 issue of World Fertilizer magazine. To read the full article, follow the link to the March issue and turn to page 35: http://bit.ly/3vf9ZFG. And to sign up to receive a free regular copy of the magazine, follow the link: https://www.worldfertilizer.com/magazine/world-fertilizer/register/
Read the article online at: https://www.worldfertilizer.com/special-reports/05042021/size-matters/
You might also like
Join our sister publication, World Cement, in Lisbon, 10 – 13 March 2024, for their first in-person conference and exhibition: EnviroTech.
This exclusive knowledge and networking event will bring together cement producers, industry leaders, technical experts, analysts, and other stakeholders to discuss the latest technologies, processes, and policies being deployed at the forefront of the cement industry's efforts to reduce its environmental footprint.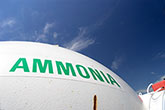 Graham Hoar, who previously ran the global ammonia, syngas and fertilizers business as Vice President at KBR Sustainable Technology Solutions, will lead the new team.