---
Gordon Cope provides a detailed overview of the transformation of China's fertilizer sector.
China, by any measure, is immense. It is the world's fourth largest nation by area and, with almost 1.4 billion citizens, the most populous. China is also a world leader in agriculture. According to OECD figures1, China grew 215 million t of maize in 2017 (21% of world production), 141 million t of rice (27% of world production), and 127 million t of wheat.
More impressively, domestic production balanced out much of consumption, which comprised 219 million t of maize (most of which went to livestock feed), 146 million t of rice, and 133 million t of wheat. Total imports for the three key commodities were under 10 million t; in-country stocks stand at 88 million t for maize, 100 million t for rice, and 83 million t for wheat.
These figures are an impressive validation of China's reliance on central planning; federal and provincial bureaucrats work to balance supply and demand in order to reduce dependence on foreign sources. Several commodities stand out as exceptions, however. For instance, China consumes 108 million t of soybeans, both as food and livestock feed, but imports 93 million t to meet its needs with only 10 million t in stock.
Part of the soybean imbalance is due to productivity. China harvests 1.8/ha., while the US averages 3.2 t/ha. Clearly, there is room for improvement.
While productivity is affected by weather, seed strains, and access to water, fertilizer plays a major role.
China is well aware of this. The country is going through a comprehensive transformation of its fertilizer sector for several reasons; the results are already having profound effects upon both the nation and the rest of the world.
Nitrogen
China produced 46 million t of ammonia in 2016. Most of this was converted to urea and AN. Although urea exports reached 13.8 million t in 2015, exports have been falling as a combination of higher coal feedstock prices, stricter environmental regulation policies, and a government focus on domestic consumption. It is estimated that China exported less than 5 million t in 2017, and that plant operating rates fell well below 60%.
The Chinese Nitrogen Fertilizer Association (CNFA) predicts that members could shut down up to 13 million tpy of older urea capacity by 2020. Some new capacity has come online: Henan Jinkai Yanhau, for instance, closed 200 000 tpy of inefficient urea capacity, but the company is opening a new, 600 000 tpy plant.
In the meantime, ammonia imports are surging.IHS Markit notes that the shortage of natural gas and increase in anthracite coal costs have pushed up domestic ammonia prices to US$468/t FCA (free carrier) Hubei, creating a spread of up to US$148 CFR (cost and freight) over merchant ammonia. As a result, the consultancy calculates that China will import as much as 1 million t of ammonia in 2018, almost double that of the previous year.
Natural gas concerns
Whether China eventually replaces all its former export capacity with new, efficient plants may hinge on domestic demand for natural gas. Government environmental policy supports the replacement of coal with natural gas as a source for heating and industrial use.
China uses slightly less than 24 billion ft3/d of gas, and relies upon imports for 40% of its natural gas needs. During the cold winter of 2017 – 2018, a shortage of gas in northern China led to a huge increase in LNG purchasing, pushing the world spot price to a three-year high of US$11 per million Btu.
The government also ordered natural gas diversions from industrial use so that there would be sufficient reserves to heat homes. In late 2017, Yunnan Yuntianhua Co. halted production at its 500 000 tpy ammonia plant and 800 000 tpy urea plant after gas producers redirected supplies.
And the situation is not expected to improve in the near term. The International Energy Agency (IEA) recently calculated that China's natural gas demand is expected to almost double, from 210 billion m3 in 2016 to 400 billion m3 in 2040. China's National Energy Administration recently reported that demand for natural gas rose almost 17% during 1H18. Natural gas currently accounts for 6% of China's energy mix; the goal is to raise it to 10% by 2020. The goal will be achieved through a combination of imports and increased domestic production.
Great effort is being put into creating more domestic production. In August 2018, President Xi Jinping instructed China's energy giants to increase natural gas supplies. CNOOC and CNPC responded that they will invest more in existing fields and fast track the development of new fields. The domestic gas industry is not expected to keep up with growing demand, however.
In early 2018, the Trump administration launched a trade war against China. In addition to other retaliatory measures, the Chinese Ministry of Commerce announced that tariffs ranging from 5 – 25% will be imposed on US LNG. China is the third largest importer of US LNG, having imported 185 billion ft3 by mid-2018, but importers began sourcing future contracts from other jurisdictions in the latter half of 2018.
While alternate LNG shipments were available during the summer, supplies can quickly tighten. "It is hard to predict if another natural gas shortage will disrupt fertilizer production this winter, as it is largely dependent on the weather," notes a senior fertilizer industry analyst. "They can probably supply sufficient gas for a normal winter, but a harsh winter would create further shortages."
Regardless, under the most likely scenario in which China becomes increasingly dependent on gas imports, government policy is unlikely to support the development of gas-based urea export capacity. Should that be the case, the long-term prospects for higher nitrogen prices for Middle East and North Africa (MENA) producers improve significantly.
Read the article online at: https://www.worldfertilizer.com/special-reports/02112018/turning-the-tables/
You might also like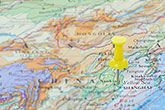 Casale's granulation process has been chosen for Xinjiang Xinji Energy's recycling project.