---
When it comes to fertilizer, Africa presents both great opportunities and challenges. Agriculture accounts for 16% of Africa's gross domestic product (GDP) and is the major source of income for rural residents. Africa also has the highest area of uncultivated, arable land (202 million ha.), half the world's total.
Nitrogen, phosphorus, and potassium (NPK) consumption has almost doubled since 2006 to 17 kg/ha., but there remains tremendous upside; a report by the African Plant Nutrition Institute (APNI) notes that if Nigerian maize farmers were to incorporate optimal applications per hectare yields would increase dramatically, from an average of 2 t/ha. to over 7 t, greatly enhancing the nation's ability to feed itself.
Yet most of Africa's farmers cannot access affordable fertilizer due to a number of factors. The African Fertilizer and Agribusiness Partnership (AFAP) is a non-governmental organisation (NGO) founded in 2012 by federal development organisations to create a partnership between governments, the fertilizer industry and small land-hold farmers with the goal of delivering best agricultural practices in Africa. It notes that: "Fertilizer consumption among smallholder farmers, who make up the majority of farmers in the region and farm most of the land, has grown in the past decade but it is still far below what is needed as farmers face numerous challenges that limit their effective fertilizer demand."
Those challenges include little or no experience with fertilizers, no information regarding the right types and rates of application for their soils, limited access to finance, fragmented markets, high prices and poor infrastructure. Still, initiatives are underway to develop indigenous sources and improve accessibility to fertilizer.
Nitrogen
According to GlobalData, the worldwide ammonia capacity is expected to grow almost 25% over the next decade, from 253 million tpy in 2019 to 290 million tpy in 2030. India, Russia and Iran are expected to account for over half of this total. Nigeria, also, has a 7.8 million tpy capacity either announced or planned for the same period, accounting for over 20% of the growth.
A steady supply of inexpensive natural gas (as both feedstock and energy), is key to expansion. Nigeria produces over 1.5 trillion ft3/yr of gas, but approximately 400 billion ft3 is flared off. The new Aliko Dangote ammonia complex began doing test runs in March 2020. When it reaches full production, the US$2 billion complex, located near Lagos, will have four trains that will produce 1.5 million short t of ammonia and 3 million short t of urea annually.
Indorama Eleme Fertiliser and Chemicals is continuing the construction of Train 2 at its nitrogen complex in Nigeria. The Singapore-based company currently produces 1.5 million tpy of nitrogen products at its Train 1 facility; the new US$3.3 billion train, with a urea capacity of 1.5 million tpy, will double output to 3 million t.
In mid-2020, Moroccan phosphate producer OCP Group announced that its Greenfield ammonia plant in Nigeria would be operational by 2024. The US$2.5 billion facility will have a capacity of 750 000 tpy of ammonia and 1 million tpy of mixed fertilizers.
Egypt, with its recent discovery of offshore gas (including the 30 trillion ft3 Zohr field), is both a leading manufacturer of nitrogen (with 17 domestic plants), and an important consumer along the fertile Nile valley and delta. Fabrication of modules for NCIC's new ammonia plant in Egypt is well underway. In June 2020, Austria-based SBN completed construction of a 1050 tpd high-pressure stripper for NCIC's ammonia plant at its Ain El Sokhana complex 100 km southeast of Cairo. The new plant is expected to enter operation in 2022 and will have the capacity to produce 440 000 tpy of ammonia, 380 000 tpy of urea and 300 000 tpy of calcium ammonium nitrate.
In 2019, OCI and Abu Dhabi National Oil Co. (ADNOC) merged their fertilizer businesses in Egypt, Algeria and the UAE to create the joint venture (JV) Fertiglobe. The new company has a production capacity of 5 million tpy of urea and 1.5 million tpy of ammonia, and a strong presence in both MENA and export markets, allowing it to leverage agricultural growth in east Africa, Asia and Brazil. In 3Q20, it reported a 79% y/y increase in adjusted EBITDA to US$192 million.
This is an abridged version of an article originally published in the March 2021 issue of World Fertilizer magazine. To read the full article, follow the link to the March issue and turn to page 10: http://bit.ly/3vf9ZFG. And to sign up to receive a free regular copy of the magazine, follow the link: https://www.worldfertilizer.com/magazine/world-fertilizer/register/
Read the article online at: https://www.worldfertilizer.com/special-reports/02042021/advancements-in-africa/
You might also like
Join our sister publication, World Cement, in Lisbon, 10 – 13 March 2024, for their first in-person conference and exhibition: EnviroTech.
This exclusive knowledge and networking event will bring together cement producers, industry leaders, technical experts, analysts, and other stakeholders to discuss the latest technologies, processes, and policies being deployed at the forefront of the cement industry's efforts to reduce its environmental footprint.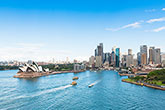 Te´cnicas Reunidas and Allied Green Ammonia have agreed to commence the first phases of a Green Hydrogen and Green Ammonia production facilities at Northern Territory, Australia.