---
Nutrien Ltd. has announced its board of directors leadership succession in connection with its annual meeting of shareholders.
Nutrien's board leadership succession plan includes a reduction in board size to 12 directors and the nomination of an independent board chair, and was undertaken during the second half of 2018 through the first quarter of 2019 by a subcommittee of independent directors.
Mayo Schmidt will succeed Derek Pannell as Nutrien's independent board chair following the annual meeting. Mr Schmidt has over 32 years of experience in the agri–business industry including in Saskatchewan and globally. His history, expertise and experiences have prepared him well for this new role along with his six years as a director of Nutrien and its predecessors. Incumbent directors Derek Pannell, Jerry Grandey and Anne McLellan are retiring from the board in connection with the annual meeting.
"Derek, Jerry, and Anne have been valuable members of the board of directors and we want to express our sincere thanks for their significant contributions to our success," said Chuck Magro, Nutrien's president and CEO. "The board of directors and the management team are excited to work with Mayo as board chair. His experience, leadership and proven track record will be important as Nutrien advances its vision and strategic plans."
Mr. Schmidt stated, "It has been a pleasure serving with Derek and Anne for the past six years and with Jerry since the start of Nutrien. They are departing Nutrien having helped to make it the world's largest provider of crop inputs and with an enviable balance sheet. It is a great privilege and honour for me to be named chair of Nutrien with an opportunity to lead the board as our business continues to grow and create value for shareholders."
Read the article online at: https://www.worldfertilizer.com/special-reports/02042019/nutrien-announces-board-leadership-succession/
You might also like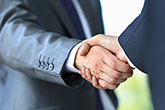 The company has initiated discussions with Unigel Participações S.A. to analyse joint business involving opportunity development in the areas of fertilizers, green hydrogen and low-carbon projects, in line with the revision of the strategic elements for Petrobras' Strategic Plan 2024 – 2028.