---
OCP Group recently attended the 10th International Trade Fair in Ethiopia, along with Morocco as the country of honour.
The event was organised by the Ethiopian Chamber of Commerce and Sectoral Associations (ECCSA), and was held in Addis Ababa from the 26th to the 30th of October, with the Moroccan delegation led by the General Confederation of Moroccan Businesses (CGEM). OCP Group is one of the largest private Moroccan investor in Ethiopia, and has served as a long-time agricultural partner of the country. Since 2012, OCP has provided the majority of Ethiopia's supply for adapted phosphate fertilizers, and recently carried out an extensive soil fertility mapping in the country, increasing Ethiopia's crop yields by almost 37%.
Last year, the group launched an industrial megaproject in Ethiopia. In November that year, alongside the official visit of His Majesty King Mohammed VI, the group and the Ethiopian Ministry of State Industry signed a strategic partnership for the construction of a world class fertilizer plant in Ethiopia. This investment forms part of OCP's continued commitment to the development of a genuine model for south-south partnership.
This Morocco-Ethiopian partnership looks to take advantage of both countries' natural resources, by making full use of Ethiopian potash and gas while the OCP Group supplies the required phosphoric acid. The project reaches into Djibouti, where a dedicated storage facility will be developed at the port of Djibouti to provide raw material for the fertilizer complex.
The first phase of this investment will involve the production of 2.5 million tpy of fertilizer by 2022, eventually increasing to 3.8 million tpy, allowing Ethiopia to be self-sufficient in fertilizer while also creating export opportunities. This megaproject will create more than 1200 jobs during the construction stage and over 500 permanent jobs during the operational stage.
The Dire Dawa Fertilizer Complex will produce fertilizer using Ethiopian potash and gas combined with phosphoric acid supplied by the Group. The project will be entirely integrated, with all of the necessary infrastructure, logistics, access to inputs, storage and transport considered, as well as offering adapted fertilizer for local farmers.
After the Jorf Lasfar complex, the Dire Dawa Fertilizer Complex is Africa's largest such facility. It represents a total investment of approximately US$2.4 billion in the first phase (this investment will increase to US$3.7 billion dollars in the second phase). This facility will produce a range of customised fertilizer products that are adapted to the requirements of local crops and soil, therefore providing a reliable and affordable supply of plant nutrients for Ethiopian farmers. As Ethiopia currently imports all fertilizer products, this joint venture will allow the nation to become self-sufficient in terms of fertilizer production by 2025. By the end of this second phase, the complex will include nine units, thereby increasing annual fertilizer production by 50%.
Africa has one of the world's lowest levels of fertilizer use, particularly in East Africa, where the rate is 13 kg/ha compared to 47 kg/ha in North Africa and more than 300 kg/ha in Asia. The global average, meanwhile, is 98 kg/ha.
Last year, OCP Group established its Africa subsidiary as part of its commitment to the sustainable transformation of African agriculture into a modern agricultural ecosystem. Today, OCP Africa is present in over 15 markets across the continent, and, with support from local and international partners, is helping to build a more structured, efficient and sustainable agriculture industry by equipping farmers with custom and affordable fertilizer solutions, as well as the agricultural best practices, skills and resources needed to succeed.
The company is also looking to improve all aspects of the agricultural value chain by removing constraints and increasing demand for fertilizers across Africa. This 'ecosystem' approach involves not only the distribution of fertilizer, but also provides farmers with access to financing, insurance and markets for their products. This long-term commitment relies on a network of private and public sector partners who share the same vision for the future of agricultural development in Africa.
Furthermore, OCP Group claims that it is dedicating custom production capacity to meet growing demand in Africa. The company is planning to invest in blending facilities across Africa to guarantee tailored and affordable products close to the farmers that need it most.
Read the article online at: https://www.worldfertilizer.com/project-news/31102017/ocp-group-participates-in-10th-international-trade-fair/
You might also like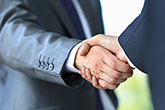 The company has announced that it has signed a definitive purchase agreement with Incitec Pivot Limited for IPL's ammonia production complex located in Waggaman, Louisiana.