---
Anglo American, owner of the Woodsmith polyhalite mine on the North Yorkshire coast, has provided a progress update on the scheme.
Development of the Woodsmith project has continued in line with expectations and the impact of Covid-19 on the project's development has been limited due to the successful implementation of all appropriate health measures. Despite the challenges of constructing during lockdown, strict temperature monitoring, social distancing and hygiene measures have meant that work has been able to be carried out safely. In fact, the workforce has increased from around 600 in May to nearly 1000 by the end of July, with more expected to be added in the coming months.
"After a brief pause at the beginning of the outbreak, we've been able to continue construction under new enhanced operating procedures based on and in some areas exceeding government guidelines," said Gareth Edmunds, External Affairs Director for Anglo American's Crop Nutrients business Woodsmith project. "We remain vigilant of the risk and will continue to do all we can do keep everyone safe. It is important for the area that this project gets built and that we continue to deliver the jobs and opportunities for local businesses that are needed now more than ever."
Anglo American is building two one-mile deep mineshafts near Whitby to access a vast 2.3 billion t deposit of the mineral polyhalite, which will be sold around the world as a natural fertilizer. The underground mine will be connected to a 23 mile long tunnel, which will transport the ore to Teesside for processing and shipping, avoiding any impact on the countryside above.
The tunnelling operation has reached 4.5 miles so far and continues to progress well. At the mine site, a giant mineshaft construction machine is currently being assembled and is expected to start excavating later this year. It will be only the third time that the state of the art 'Shaft Boring Roadheader' has been used anywhere in the world, to dig what will be the deepest mineshafts in Europe.
Anglo American expects to invest approximately US$300 million (£235 million) in each of 2020 and 2021 on the ongoing development of the project, including building the mineshafts and the first section of the tunnel from Teesside. After that, the next stage would be to complete the mine, tunnel, processing and shipping facilities in order to bring the mine into production.
Read the article online at: https://www.worldfertilizer.com/project-news/31072020/anglo-american-provides-update-on-woodsmith-polyhalite-project/
You might also like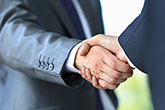 The company has announced that it has signed a definitive purchase agreement with Incitec Pivot Limited for IPL's ammonia production complex located in Waggaman, Louisiana.