---
Kalium Lakes Ltd has recently announced the updated mineral resource for the Beyondie SOP Project(BSOPP) after additional drilling and test work supported a threefold increase in Mineral Resources at Lake Sunshine. This represents an increase in total mineral resources of 6.05 million t SOP in the Stage 1 area of the project, which holds only 21% of the total lake surface area included within the project's tenement package. The work was undertaken as part of optimisation of the brine production borefield and has delivered an increased total drainable mineral resource figure of 31.42 million t at 13 151 mg/l SOP for the project.
CEO, Rudolph van Niekerk, said: "This is an outstanding result. Our team is focused on not only optimising plans for the start-up production at 90 000 tpy of SOP, but also improving the foundation for project expansion and increased production.
"This significant increase in resources at Lake Sunshine is just another building block in our plans to build a long term, sustainable SOP producing operation that will not only deliver much needed SOP into the Australian market, but also generate long term returns to the company's shareholders and investors," he said.
Exploration drilling at Lake Sunshine has extended to depths of up to 196 m in the sandstone aquifer located on the fringes of the palaeochannel, 120 m deeper than previous drilling in the area. Production bores have been installed and test pumped to depths of between 70 and 182 m within three different aquifers, comprising the palaeochannel sand, bedrock sandstone and basalt aquifers that form the Lake Sunshine brine borefield. The mineral resource now extends to a depth of 140 m with the borefield condensed on the western and southern shoreline of the lake to take advantage of the higher-grade brine and closer proximity to the Sunshine pre-concentrator evaporation pond.
The Lake Sunshine borefield is installed over 7 km of the lake shoreline, with the mineral resource covering 22 km of Lake Sunshine. This means that there is large scope for expansion of the borefield within the Stage 1 area to support future increased production rates in proximity to existing infrastructure. Commissioning of the borefield is underway with brine being pumped to the Sunshine pre-concentrator evaporation pond since early August and the data collected during these commissioning activities forming the basis of a pending, updated ore reserve.
Read the article online at: https://www.worldfertilizer.com/project-news/27082020/beyondie-sop-project-mineral-resource-update/
You might also like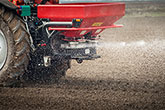 The company highlighted the role of the fertilizer industry by addressing global agricultural value chain challenges at the IFA conference in the Czech Republic.