---
Shell Thiogro Technology will help Two Rivers Terminal support increased food production by meeting the growing demand for a highly concentrated sulphur enhanced fertiliser in the Pacific Northwest and California.
The product uses Shell Thiogro Urea-ES technology, a patented process to incorporate micronised elemental sulphur in a matrix of urea. The technology will be installed at Two Rivers Terminal's facility in Moses Lake, Washington and will be produced on IPCO Rotoforms. In addition to this technology, Shell will also be providing technical expertise and sulphur through an offtake agreement from its Puget Sound refinery, thereby unlocking the full value of the sulphur as a regional crop input.
"Two Rivers Terminal is excited to begin production of this product as soon as possible," said Steve Peot, General Manager, Two Rivers Terminal. "We feel there is a great fit within the Pacific North West and California for a product that can provide a controlled release of sulphur over a single growing season."
"The small particle size of the sulphur coupled with a grade of 11-0-0-75 can not only be used as a replacement to bentonite, but also as a viable replacement to ammonium sulphate. Leaching of nutrients, including sulphate is a common concern in the agronomic community. With quick oxidation of the elemental sulphur, we expect Special-S to provide continuous, season long sulphur nutrition, while minimising losses from leaching".
Shell is committed to offering more and cleaner energy solutions to our ever-growing population. "As a global leader in innovation in the sulphur industry, Shell is committed to helping to meet the challenges the world will face in energy, food, and water. Shell Thiogro technology is just one of the ways that we are overcoming these challenges" said Jason Wong, Vice President of Shell Global Bitumen and Sulphur.
"Made possible by Shell Thiogro technology, Two Rivers Terminal will produce a high Sulphur Urea- ES fertiliser, which will help resolve food challenges today and, in the future, through increased crop yields; with the intent of improving the lives and profitability of agricultural communities. Through strong collaboration, Two Rivers Terminal and Shell can respond to the population demands of a dynamic and fast changing world."
The technology is expected to be commissioned in 2Q19.
Read the article online at: https://www.worldfertilizer.com/project-news/25092018/shell-thiogro-technology-to-be-installed-at-two-rivers-terminals-facility/
You might also like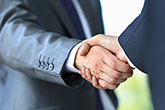 The company has initiated discussions with Unigel Participações S.A. to analyse joint business involving opportunity development in the areas of fertilizers, green hydrogen and low-carbon projects, in line with the revision of the strategic elements for Petrobras' Strategic Plan 2024 – 2028.