---
Trigg Mining has reported final assay results from recently completed air-core drilling at its highly prospective 100%-owned Lake Throssell sulfate of potash (SOP) project, located east of Laverton in Western Australia.
The results, which feature a significant average grade of 4488 mg/L potassium (10.01 kg/m3 SOP) with individual assays of up to 5800 mg/L potassium (12.93 kg/m3 SOP), provide further strong evidence of a consistent, large high-grade palaeovalley system at Lake Throssell capable of supporting a significant long-term SOP operation. The strong results pave the way for a maiden JORC Inferred Mineral Resource at Lake Throssell, with work now underway to deliver that resource early next quarter.
The maiden air-core drilling programme at Lake Throssell commenced in late November 2020 and was completed in February 2021 (including a six-week suspension of drilling due to inclement weather), comprising a total of 54 holes for 5623 m, with drilling extending over the entire palaeovalley area within the granted tenement up to depths of 144 m.
The drilling confirmed the presence of a broad palaeovalley of up to 5 km wide and about 100 m deep over a strike of 36 km. The basal palaeovalley sediments appear to have multiple aquifer targets at depth within the basal sediments, with sand and gravels logged for up to 35 m in thickness in places.
A total of 253 brine samples have been analysed with a maximum recorded grade of 5800 mg/L potassium (12.93 kg/m3 SOP) and an average grade of 4488 mg/L potassium (10.01 kg/m3 SOP).
The final brine results show that there is little variation in brine composition and grade at depth, with 96% of the brine samples falling within the 4000 mg/L to 4500 mg/L potassium (8.92 to 11.15 kg/m3 SOP) grade bracket. This indicates that high-grade brine is prevalent throughout the palaeovalley system and bedrock lithologies within the granted tenement under the lake.
These results are consistent with a large, relatively homogeneous brine deposit, with brine chemistry exhibiting favourable characteristics for solar evaporation to produce SOP and lower waste salts.
The average brine grade of 4488 mg/L potassium (10.01kg/m3 SOP) aligns with the upper end of grade estimates within the previously reported Exploration Target (7.5 Mt to 27 Mt at a grade ranging between 3993 mg/L and 4394 mg/L potassium (8.90 - 9.80 kg/m3 SOP), further supporting the potential for a large-scale SOP Project.
The company is currently working towards a maiden Mineral Resource estimate for Lake Throssell, which is on-track for completion in 2Q21. In addition, planning has commenced for the construction and testing of test trenches on the lake surface and test production bores at depth to estimate the hydrogeological characteristics of the deposit.
Trigg Mining's Managing Director, Keren Paterson, said: "These are hugely encouraging results that confirm that Lake Throssell is a large-scale and remarkably consistent high-grade SOP project. It is particularly pleasing that the average grade of our assays has come in at the very upper-end of our Exploration Target, which provides a strong foundation for the completion of a maiden Mineral Resource estimate early next quarter.
"We are also looking forward to getting test trenches in place to commence the work to better understand Lake Throssell's hydrogeological characteristics, which will be an essential input for feasibility studies."
Image of Lake Throssell on lake air-core drilling courtesy of Trigg Mining
Read the article online at: https://www.worldfertilizer.com/project-news/25032021/trigg-mining-drilling-confirms-high-grade-brine-system-at-lake-throssell/
You might also like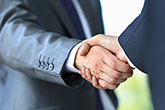 The company has initiated discussions with Unigel Participações S.A. to analyse joint business involving opportunity development in the areas of fertilizers, green hydrogen and low-carbon projects, in line with the revision of the strategic elements for Petrobras' Strategic Plan 2024 – 2028.