---
PJSC KuibyshevAzot is planning to put into operation a new granulated ammonium nitrate plant before the end of 2020.
This revitalisation strategy will include the replacement of the vintage equipment that has been operating since 1965 and will reduce energy consumption and air emissions from the ammonium nitrate plant.
The project to be implemented is among the "Priorities in Development of PJSC KuibyshevAzot for 2016-2020" according to the investment programme that was adopted by the Board of Directors of PJSC KuibyshevAzot and involves import substitution policies, expansion of existing plants, and construction of new plants using cutting-edge and resource-saving technologies. The project investment is around RUB3 billion.
The plant will be constructed on EPC basis, and the appropriate contract has been awarded to OJSC GIAP, who were the previous licensors.
"This is the first large EPC project for JSC GIAP. We deeply appreciate the confidence PJSC KuibyshevAzot have placed in us, and we will make every effort to accomplish the tasks entrusted to us successfully and timely", says Dmitriy Bereslavskiy, Deputy Director General and Head of EPC Contracts and Turnkey Projects Division of JSC GIAP.
JSC GIAP is a group of engineering companies specialising in the nitrogen industry. The group is represented by 6 operating companies and staffed by more than 600 employees.
PJSC KuibyshevAzot is one of the leading chemical enterprises of Russia. Its product range covers caprolactam and its derivatives (polyamide-6, high strength technical yarns, tire cord, engineering plastics); ammonia and nitrogen fertilizers (ammonium nitrate, urea, ammonium sulphate, UAN).
Read the article online at: https://www.worldfertilizer.com/project-news/25012019/pjsc-kuibyshevazot-launches-large-scale-modernisation-of-ammonium-nitrate-plant/
You might also like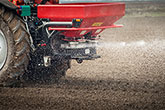 The company highlighted the role of the fertilizer industry by addressing global agricultural value chain challenges at the IFA conference in the Czech Republic.