---
PJSC Metafrax and Casale have announced that they have signed a contract for the engineering, equipment supply and construction management of a large chemical complex to be implemented in Gubakha, Perm region, Russia.
Under the contract terms, Casale claims that it will act as the technology licensor and engineering, procurement and construction management (EPCm) contractor for the project. The project will consist of the following components:
One 894 tpd ammonia synloop, utilising A2000 CTM technology, operating on pure hydrogen and nitrogen feedstock.
One 1725 urea plant, using Split FlowTM and Full CondenserTM technologies.
One 40 000 tpy melamine plant, utilising LEMTM technology.
The new facility will be completed by a PSA unit for the recovery of hydrogen from the purge gas of the existing methanol plant, to be utilised as feedstock for the new ammonia synloop, and a carbon dioxide recovery (CDR) unit, designed according to MHI technology, which will recover 1200 tpd of CO2 from the methanol plant reformers, to be utilised as feed for the urea plant.
Construction of the complex is slated for realisation in 36 months. It is a result of PJSC Metafrax's business strategy that commenced 20 years ago. In this strategy, the company has carried out a series of steps – always utilising Casale technologies – boosting the methanol plant capacity from 2500 tpd to 3375 tpd. The latest step involved debottlenecking the methanol plant's front end by installing a new POX unit section in parallel to the existing reformers.
The General Director of Metafrax, V. Daut, said: "We decided to proceed in partnership with Casale because we saw a big advantage in having one single licensor for ammonia, urea and melamine, in combination with their deep knowledge of our existing methanol plant. We believe that, with its big experience in all kind of revamp, Casale will realise optimal technical solutions for integrating the new units of the complex into our existing methanol plant."
The CEO of Casale, Federico Zardi, added: "We are very proud to have been selected by one of the most prestigious chemical companies in Russia to help them fostering their growth through widening their product mix and toward becoming one of the most important players in the Russian market."
Read the article online at: https://www.worldfertilizer.com/project-news/23102017/metafrax-and-casale-sign-contract-for-russian-chemical-complex/
You might also like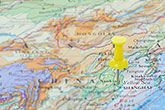 Casale's granulation process has been chosen for Xinjiang Xinji Energy's recycling project.