---
Danakali has announced that the Notice of Commencement of Mine Development (the Notice) which Colluli Mining Share Company (CMSC) lodged with the Eritrean Ministry of Energy & Mines (MoEM), has been accepted by the MoEM.
Additionally, upon acceptance of the Notice the MoEM has also shown support for the financing of the Colluli project by:
granting time to commence the commercial production within 36 months from submission of the Notice, (mid-December 2022);
consenting to the security to be granted in support of the financing; and
consenting to the account structure for the financing for the Colluli project.
Acceptance of the Notice is one of the conditions precedent to the financing for the Colluli project and is a positive step toward achieving financial close of the project facilities.
In order to issue the Notice, CMSC satisfied the following key Colluli development preconditions:
Mining Agreement executed and Mining Licenses issued;
Submitted and obtained approval for the Social & Environmental Impact Assessment Study and Social & Environmental Management Plans; and
Submitted the commercial sulfate of potash production expectations over the life of the mine.
The Notice was submitted to the MoEM by CMSC on 17 December 2019 however the process has been slower than expected due to COVID-19 related lockdowns in Eritrea. In accordance with the Mining Agreement, CMSC has 36 months from submission date to spend US$200 million within the Mining Licence Area.
CMSC had previously obtained all licences and permits within the Colluli Mining Licence, and along with the acceptance of the Notice, the MoEM has also granted all required permits, licences and authorisations for infrastructure construction and development outside the Colluli Mining Licence area.
Infrastructure to be developed and upgraded outside the Colluli Mine Licence area includes:
Sea Water Intake and Treatment Area at Anfile Bay (WITA);
Pipeline and access corridor of 87km between the WITA and the Colluli process plant; and
Colluli site access road of 57km connecting Colluli to Marsa Fatuma.
Niels Wage, CEO of Danakali, commented: "I am pleased to report that the Eritrean Ministry of Energy & Mines has formally accepted CMSC's Notice of Commencement of Mine Development. This year, the project team has made significant progress through management of DRA during Phase 1 and 2 of the EPCM works and most recently by commencing the necessary test works, enabling us to maintain forward momentum of the Project Development. I look forward to updating the market on the progress of our Project in due course".
Read the article online at: https://www.worldfertilizer.com/project-news/22072020/danakali-receives-mine-development-approval/
You might also like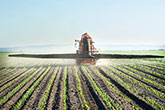 The new facility will deliver significant benefits to Western Australian grain growers.