---
Casale has supplied a new high-pressure (HP) stripper to a urea plant operated by Grupa Azoty PULAWY, the Polish fertilizer producer.
After the revamping of a Pulawy urea plant in 2010, followed by the supply of various equipment and interventions for the plant improvement – aimed at increasing its performance and supporting the policy of reducing CO2 emissions undertaken by the Polish group – a new high-pressure (HP) stripper made with Uremium 29 components has just been delivered.
The scope of this supply was the replacement and modernisation of the HP stripper in the synthesis section of the Pulawy Urea Plant 2.
Uremium 29 is a new alloy with very high resistance to carbamate-induced corrosion that Tubacex has specifically developed for and in cooperation with Casale.
The stripper was built with Casale technology and designed at the Villa & Bonaldi workshops, a specialised and experienced Italian manufacturer of HP shell and tube heat exchangers for process Industries.
Uremium 29 is recommended for the tubes of HP pressure equipment as well as piping and fittings, as it increases reliability and the operating life.
Industrial tests performed over recent years in several urea plants have confirmed the enhanced resistance to the most aggressive carbamate corrosion modes.
With this latest delivery to Grupa Azoty Pulawy, Casale has supplied more than 35 strippers so far, both new and revamped, with materials of construction ranging from super-austenitic to superduplex alloy (e.g. Uremium 29) to titanium and zirconium.
Read the article online at: https://www.worldfertilizer.com/project-news/21062021/casale-delivers-highpressure-stripper-to-urea-plant-in-poland/
You might also like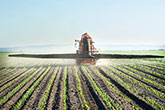 The new facility will deliver significant benefits to Western Australian grain growers.