---
Yara International ASA has released a statement announcing that it has delivered lower 1Q18 results compared to 1Q17.
Net income after non-controlling interests was US$116 million (US$0.42 per share) compared to US$201 million (US$0.73 per share) in 1Q17. Excluding currency translation gains and special items, the result was US$0.42 per share compared to US$0.59 per share in 1Q17.
First quarter EBITDA excluding special items was US$377 million. This is a 5% decrease from a year earlier, as low deliveries, higher energy costs and a weaker US dollar more than offset the impact of higher prices.
Svein Tore Holsether, the President and CEO of Yara, said: "Yara reports lower results, as both our volumes and energy costs were impacted by the cold weather in Europe which has delayed planting and fertilizer application. On the positive side, our improvement program is on track.
"The operating environment for our business remains tough, and we expect fertilizer markets to stay supply-driven for some time yet. We therefore continue to focus on improving our operations and delivering our committed growth projects."
Compared to 1Q17, Yara claims that total fertilizer deliveries decreased by 7%, reportedly driven by lower deliveries in Europe and Brazil. Industrial deliveries were in line with last year. Yara claims that its ammonia production was 13% higher than 1Q17, while finished fertilizer production increased by 2%. Margins improved compared with a year earlier, with higher realised prices for all main product groups more than offsetting the effect of higher gas prices in Europe.
In the statement, Yara claims that the global farm margin outlook and incentives for fertilizer application are showing signs of improvement, with the FAO cereals, meat and dairy price indices all at higher levels than the year before. Nevertheless, European first quarter nitrogen industry deliveries were down by an estimated 22% compared with a year earlier, and Yara expects full-season nitrogen industry deliveries to be down by 3 – 5%. Based on current forward markets for oil products and natural gas, Yara's spot-priced gas costs for second and third quarter 2018 are expected to be US$90 million and US$70 million higher than a year earlier.
The Yara Improvement Program is on track to reach at least US$500 million of annual EBITDA improvement by 2020, of which US$275 million has been realised as of 1Q18.
Read the article online at: https://www.worldfertilizer.com/project-news/20042018/yara-reports-improved-margins-but-lower-deliveries/
You might also like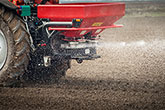 The company highlighted the role of the fertilizer industry by addressing global agricultural value chain challenges at the IFA conference in the Czech Republic.