Potash Ridge updates 43-101 prefeasibility technical report for Blawn Mountain
Published by Angharad Lock, Digital Assistant Editor
World Fertilizer,
---
Potash Ridge Corp. has announced the completion of an independent 43-101 technical report for the Blawn Mountain Project in Utah. This technical report was prepared by Millcreek Mining Group for Potash Ridge and summarises an updated Prefeasibility Study performed on Blawn Mountain by Millcreek and Resource Development Inc. that focused on the mining and processing of alunite ore for the production of potassium sulfate.
Highlights of the report
Surface mine with conventional crushing, roasting, leaching and crystallisation processes.
Proven and probable mineral reserves of 153 million short t; reserves support a 46-year project life.
An average of 255 000 short tpy of potassium sulfate during first 10 years of operation after ramp-up; life of mine average of 232 000 tpy of potassium sulfate.
Flexible process capable of producing both crystalline soluble and granular potassium sulfate to meet market conditions.
Installed potassium sulfate capital cost of US$458 million.
Expected to be the lowest cost producer of potassium sulfate in North America: average net cash operating costs after by-product sulfuric acid credits of US$172/t of potassium sulfate (exclusive of royalties), which includes approximately US$40/t in transportation costs.
Unlevered after tax internal rate of return of 20.1%, based on assumed price of US$675/t for potassium sulfate and $115/ton for sulfuric acid in 2020 and 2% inflation.
Strong earnings potential: average operating margin of US$135 million per annum during first 10 years of operation after ramp-up; life of mine average of US$172 million per annum.
Strong cash flow generation: average after tax cash flow of US$107 million per annum during first 10 years of operation after ramp-up; life of mine average of US$128 million per annum.
Project after tax net present value of US$482 million using a 10% discount rate: no terminal value added to the NPV, which assumes no extension to life of operations.
Potential upside in economics through expansion of initial production rate and possible monetisation of the residual waste material given its high concentrations of alumina.
Based on the recommendations from the Technical Report, Potash Ridge intends to undertake additional metallurgical testing to determine the most economic means to extract alumina from the residual waste material.
Mr. Guy Bentinck, President and Chief Executive Officer, stated: "The completion of this updated Technical Report is a major development for Blawn Mountain. Through process improvements utilising known technologies, we have managed to update the 2013 Technical Report to a capital cost that is more attractive given today's market conditions, and to an initial production rate that can easily be absorbed into the North American market, without impacting economic returns. Blawn Mountain has already secured its Large Mine and other permits, and water rights. With completion of this Technical Report, our next steps will be to secure a fixed-price Engineering, Procurement and Construction contract, raise construction capital and finalise commercial arrangements, with a target of commencing project execution this year."
"Potassium sulfate continues to demonstrate strong long-term fundamentals in North America and worldwide. Demand for soluble potassium sulfate is anticipated to increase significantly as growers convert to drip, micro-sprinkler and precision irrigation systems as a result of continued and growing emphasis on efficient and effective use of water resources in California and other North American agricultural markets. We anticipate that our ability to produce crystalline, high purity soluble potassium sulfate will target this underserved and growing market."
Read the article online at: https://www.worldfertilizer.com/project-news/19012017/potash-ridge-updates-43-101-prefeasibility-technical-report-for-blawn-mountain/
You might also like
Join our sister publication, World Cement, in Lisbon, 10 – 13 March 2024, for their first in-person conference and exhibition: EnviroTech.
This exclusive knowledge and networking event will bring together cement producers, industry leaders, technical experts, analysts, and other stakeholders to discuss the latest technologies, processes, and policies being deployed at the forefront of the cement industry's efforts to reduce its environmental footprint.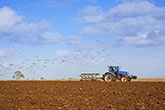 Azomures recently concluded contracts for the purchase of natural gas, which allow the resumption of fertilizer production at 50% of the total capacity of the factory, starting in October 2023.