---
The 'Innovations in Probiotic Fertilizers, Sustainable Proteins, Water Technology, Crop Monitoring, and Solid Waste Management' report has been added to ResearchAndMarkets.com's offering.
This edition of the Industrial Bioprocessing TechVision Opportunity Engine (TOE) features trends and innovations in probiotic fertilizer, sustainable proteins, green charcoal, concentrated detergents, crop monitoring, and water technology. The TOE focuses on the modifications to the bio-based plastics, which increase their performance efficiency and shelf life. The TOE also features innovations based on resource recovery from biomass processes. Additionally, the TOE deals with the conversion of microalgae and carbon dioxide to value-added products. This TOE also provides intelligence on the utilisation of gasification processes in solid waste management, which also integrates atmospheric water and energy generation.
The Industrial Bioprocessing TechVision Opportunity Engine (TOE) provides intelligence on technologies, processes and strategic insights of industries involving bioprocessing, including innovations in the development and production of chemicals, pharmaceuticals, nutraceuticals, alternative fuels, chemical feedstocks, food and beverages, and consumer products.
Key topics covered:
Probiotic-based organic fertilizers
Cloud platform to streamline dairy business and help the growing milk industry
Insect-based sustainable protein
Highly nutritious protein with low environmental impact
Environment-friendly charcoal from agricultural waste
Improved, sustainable, charcoal production value chain
Innovative water vending machine
Social and environmental impact of the technology
Effective, concentrated laundry capsules
Concentrated laundry capsule with lower impact on environment
Digital and sensor-enabled crop monitoring technology
Agricultural digital platform making agriculture more productive, sustainable
Modification of soy protein-based bio-films for improved water resistance
Effective treatment and resource recovery from black liquor arising from biomass processing
Conversion of microalgae into value-added chemicals using CO2 oxidants
Utilisation of gasification process to integrate solid waste management, atmospheric water and energy generation
Use of decentralised processes helps in adhering to the circular economy concept
Rapid composting-based bioreactor systems for the treatment of organic solid wastes
Curing process post rapid composting enables the generation of soil amendments with more nutrients
Proprietary external circulation sludge bed for the treatment of industrial wastewater
Use of cost-effective anaerobic bio-reactors enable stakeholders to reduce wastewater surcharges
Key contacts
For more information about the report, click here
Read the article online at: https://www.worldfertilizer.com/project-news/18042019/researchandmarketscom-2019-fertilizer-report-released/
You might also like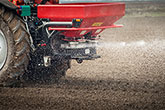 The company highlighted the role of the fertilizer industry by addressing global agricultural value chain challenges at the IFA conference in the Czech Republic.