---
JSC NIIK has received a positive resolution on the state ecological expertise procedure on the project for the construction of an ammonia and urea complex at the site of JSC Shchekinoazot in the Tula region of Russia.
NIIK was the developer of the project documentation for the facility, including materials for environmental impact assessment (EIA).
NIIK experts analysed the existing state of the territory where the complex is planned to be located, studied materials from official sources, monitoring data, conducted surveys, made the necessary inquiries to the authorised state bodies, determined the qualitative and quantitative characteristics of the impact of the projected complex on the environment, carried out its assessment and developed measures to reduce this impact.
The results of the work carried out were approved at public hearings. The project documentation was sent to the state environmental expertise for review. The positive resolution was issued on 15 February 2021.
"The technologies used in the complex for the production of ammonia and urea are modern, energy efficient and correspond to the best available technologies. To reduce emissions of pollutants into the atmospheric air, the project provides for selective catalytic purification of flue gases from nitrogen oxides, the use of a purge synthesis gas as a fuel gas, which excludes its fugitive emission, and other measures," - explained the head of design management division Elena Aksenova.
The complex for the production of ammonia with a capacity of 525 000 tpy and urea with a capacity of 700 000 tpy at the site of JSC Shchekinoazot is being built by specialists from three established companies with a wealth of experience in the chemical industry - JSC NIIK (adaptation of the basic package, development of project documentation, adaptation of working documentation), JSC Shchekinoazot (customer) and Chinese CNCEC (basic design package, detailed design documentation, equipment supply, construction).
"Currently, preparations are underway for the start of construction and installation works on the site, the project for natural gas is fully approved, and other important tasks preceding the construction process are being solved. Now we are confident that the project will be successfully implemented, because even in such difficult conditions of the pandemic, it has not been stopped" said Aksenova.
Read the article online at: https://www.worldfertilizer.com/project-news/15032021/niik-announces-positive-resolution-on-environmental-impact-assessment-for-ammoniaurea-project/
You might also like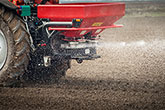 The company highlighted the role of the fertilizer industry by addressing global agricultural value chain challenges at the IFA conference in the Czech Republic.