---
EuroChem Group AG, a leading global fertilizer producer, announces the formal opening of a new production plant for highly efficient, water-soluble fertilizers at its Lifosa subsidiary in Lithuania.
The €14 million (US$16 million) facility will produce 25 000 tpy of crystalline urea phosphate, adding to the range of high-quality fertilizers currently manufactured at Lifosa. These include Diammonium Phosphate (DAP), a nitrogen-phosphorus fertilizer, and water-soluble crystal Monoammonium Phosphate (MAP).
Crystalline urea phosphate is a soluble, chlorine-free fertilizer that contains no heavy metals and is suitable for use on various soils. As it is soluble in water it can easily be applied by a sprinkler and provides plants with the necessary nitrogen and phosphorous nutrients needed for growth.
"This new facility will further strengthen Lifosa's position in the global fertilizer market," said Jonas Dastikas, General Manager of AB Lifosa. "At the same time, the construction of the plant is an investment in the sustainable development of the company. We constantly aim to protect our environment by rationing the use of natural resources."
Test production of crystalline urea phosphate began in September, and the plant will ramp up to full production by the end of the year.
Read the article online at: https://www.worldfertilizer.com/project-news/12102018/eurochem-opens-new-us16m-fertilizer-plant-in-lithuania/
You might also like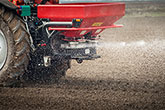 The company highlighted the role of the fertilizer industry by addressing global agricultural value chain challenges at the IFA conference in the Czech Republic.