---
Mosaic Co. has announced that Gregory Ebel has assumed the position of Chairman of the company's board of directors upon the conclusion of the recent annual meeting of shareholders.
Ebel succeeds Robert Lumpkins, who has served as the Chairman of Mosaic since the company's inception in 2004. Lumpkin will continue as a director to ensure a smooth transition.
Ebel has served on the board since 2012. He currently chairs the Corporate Governance and Nominating committee, and serves as a member of the audit committee. Previously, he served as Chairman, President and CEO of Spectra Energy Corp., and as Chairman, President and CEO of Spectra Energy Partners until he retired in February last year. In addition to this, he also serves as a Director and Chairman of Enbridge Inc.
Ebel said: "Mosaic and its board of directors have benefitted immensely from Bob's dedication, leadership and insight in his role as chairman.
"Bob was instrumental in the transactions that formed Mosaic, and his deep knowledge of the fertilizer and agriculture industries helped build Mosaic into the thriving company it is today. I'm thankful that Bob will remain on the board, and I welcome his experience and guidance in the year ahead."
In the statement, Mosaic claims that two further changes to the board of directors were implemented at the annual meeting. James Popowich retired as a director, whilst Oscar Bernardes was newly elected to the board.
Ebel added: "On behalf of the entire board, I would like to extend my sincere gratitude to Jim Popowich.
"Jim served with professional and personal passion, particularly in the areas of environmental, health and safety and sustainability. We will miss his depth of insight and technical knowledge regarding mining processes. We wish Jim all the best in his retirement."
Bernardes currently serves as a Managing Partner, Yguaporã Consultoria e Empreendimentos Ltd. – a consulting and investment firm in São Paulo, Brazil. Prior to this, he served as a managing partner at Integra Associados – Reestruturacao Empresarial Ltda (a consulting firm specialising in financial restructuring, governance and interim management in turnaround situations, also located in São Paulo). He also served as Chairman of TIW do Brasil, a Canadian telecommunications company, and as CEO of Bunge International, a leading global agribusiness and food company. He has significant knowledge of Brazil and its agriculture industry, as well as experience in international operations and risk management, which will be of key importance to Mosaic and its board of directors.
Read the article online at: https://www.worldfertilizer.com/project-news/11052018/mosaic-announces-changes-to-board-of-directors/
You might also like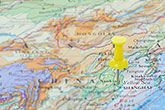 Casale's granulation process has been chosen for Xinjiang Xinji Energy's recycling project.