---
Kalium Lakes has provided a commissioning update for its Beyondie SOP Project.
Milestones
More than 113 000 r of contained SOP pumped as at end July 2021.
90 000 t of potassium salts stockpiled on the ROM pad, equivalent to approximately 9000 t of SOP production.
Harvesting operations continue, without interruption or delay, from the abundant supply of potassium salts available within the crystalliser ponds.
First production of SOP is still targeting late September 2021.
The completion of construction activities and parallel commissioning activities remain within the capital expenditure budget.
Rudolph van Niekerk, CEO, commented: "I am delighted that our forethought, careful planning and well executed production readiness strategy is delivering results. Having installed a robust network of brine supply and evaporation ponds, we continue to reap the bounty of large volumes of potassium salts above the plant feed cut-off grade, which are harvested and delivered to the ROM pad. With this ample supply of potassium salts, we have expanded our stockpile area and will soon be ready to move from commissioning to production.
"The operations team at the Beyondie SOP Project is working closely with the projects team through each of the separate commissioning stages of the SOP purification plant. We are entering the final phase of the project and, with several areas of the plant ready for water commissioning, there are only a couple of months to go before commencement of SOP production."
SOP production readiness
More than 90 000 t of potassium salt, that meets the plant feed cut-off grade, has been harvested and delivered to the ROM stockpile. Harvesting operations and potassium salt stockpiling is ongoing, with several other ponds ready and available for harvest. The potassium salt, both harvested and ready for harvest, accounts for approximately the first six months of SOP production during the ramp-up period.
The company's pond design and operating methodology allows for a controlled transfer of brine from the lower grade sodium chloride ponds, down to the higher-grade ponds where potassium salt is precipitated to meet plant feed specifications on an ongoing basis.
This operating model enables control of the precipitation at a constant rate to minimise the variability of potassium content in plant feed salt. As a result, the operations target sustainable delivery of on specification plant feed potassium salts. Kalium Lakes uses a mix of a spot and core sampling methodologies to verify the potassium content of salt in the ponds. Spot sampling involves multiple samples collected at the same points and core sampling involves multiple samples collected from three different points in a single pond.
The flotation agent that will be used in the flotation circuit of the process was carefully selected through extensive bench and pilot scale test-work during the feasibility studies with K-UTEC AG Salt Technologies and constitutes part of the performance guarantee provided under the EBTEC contract for standard grade SOP production.
Dr Markus Pfänder, CEO of K-UTEC, commented: "Our process design and performance guarantees are based on decades of salt processing and purification experience, which includes SOP production in similar operations.
After extensive testing in our demonstration facilities a process design for the Beyondie SOP Project was chosen that includes direct flotation, where the concentrate containing potassium is floated rather than sodium chloride. This provides for a more robust design that, if necessary, can process lower grade potassium feed salts."
The majority of areas of the SOP purification plant are now at or near the dry commissioning stage, with the bulk of the remaining works associated with insulation, electrical, instrumentation and controls. Construction of the granular SOP production facilities and storage shed continues according to plan.
Read the article online at: https://www.worldfertilizer.com/project-news/09082021/kalium-lakes-provides-beyondie-sop-commissioning-update/
You might also like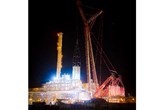 The company developed a solution to upgrade the plant's original towers by lifting out the old intact assets, and manoeuvring the modular replacements into position.