---
The President of The Fertilizer Institute (TFI), Chris Jahn, has praised the US House of Representatives for voting overwhelmingly in favour of H.R. 8, the Water Resources Development Act of 2018, by a vote of 408-2.
Jahn said: "Our nation's transportation infrastructure is critical to agriculture and rural America's comparative advantage in world markets, and the Water Resources Development Act, or WRDA, is a vital support for that network that must be reauthorised by Congress in 2018.
"WRDA is the foundation for the modernisation of our nation's inland waterways and ports, which are an integral component of the fertilizer distribution system. TFI and our members are pleased to see it pass with such tremendous and bipartisan support."?
In order to highlight the need to modernise the US's aging water infrastructure, Jahn discussed the 700% increase in unscheduled work stoppages for repairs of locks and dams built almost 100 years ago, which were only designed to last 50 years.
He said: "These delays are not only disastrous for the farmers who receive much of the almost 70 million t of fertilizer each year via our nation's waterways, they can also raise the prices of everyday goods and food for consumers."
In addition to this, Jahn called on the Senate to act, noting that the Senate Environment and Public Works Committee easily approved its WRDA legislation in May, but the full Senate has yet to consider it.
He said: "The Senate must act to give agricultural customers the modern and efficient waterway system they need. Half of all food grown around the world today is made possible through the use of fertilizer. But if that fertilizer can't be efficiently transported throughout the supply chain, or is unnecessarily delayed, we could have a serious food and economic crisis on our hands. Our nation's farmers, fertilizer producers, retailers and shippers are counting on the Senate to act quickly."
Read the article online at: https://www.worldfertilizer.com/project-news/08062018/tfi-president-praises-us-house-of-representatives/
You might also like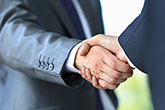 The company has announced a new joint venture developing green ammonia and fertilizer projects with the focus on Central America and the Caribbean.