---
Kore Potash has announced that Certificates of Environmental Compliance were issued on 31 March 2020 by the Ministry of Tourism and Environment of the Republic of Congo for the Dougou and Kola mining licences, each with a 25 year validity.
The certificates relate to the Environmental and Social Impact Assessments (ESIA) for both licences and relax the previous requirement for periodic compliance certificates. The ESIA's for both licences previously required reapproval on an annual or 3 yearly basis.
The approved Kola ESIA covers the planned mining and processing of the Kola sylvinite deposit, in line with the scope of the Kola definitive feasibility study including: mine area; plant area; high-voltage transmission line corridor; gas pipeline corridor; and conveyor and service road corridor.
The ESIA approval currently covers the potential mining and processing of the Dougou carnallite Deposit.
The company plans in the future to seek approval for amendments to this ESIA to include planned mining and processing of the Dougou Extension sylvinite deposit which sits within the Dougou mining licence.
The company also plans to utilise the high-voltage power line, gas pipeline and conveyor and service road corridors, approved in the Kola ESIA, as service corridors for the DX project.
The company has also said that it anticipates completion of the Preliminary Feasibility Study (PFS) on the Dougou Extension project this quarter. The Dougou Extension presents the quickest pathway to potash production and cash generation for the company and the larger Kola project is planned for development subsequent to first production from the Dougou Extension.
Brad Sampson, Chief Executive of Kore Potash, commented: "We are pleased with the continued support of the Government of the Republic of Congo. The 25 year ESIA period is now aligned with the timeframe of the Mining Convention between Kore and the Government of the Republic of Congo, which was passed into law. This offers improved certainty for all parties and stakeholders."
"As we progress the development of the DX project and move towards first potash production we will apply for amendments to the Dougou ESIA as part of the DX permitting process. We are particularly mindful of the Government's support during the difficult current global situation with Covid-19. In response to Covid-19 Kore has temporarily closed its office in the Congo and our staff are working productively from home and continue to progress our activities including the DX PFS in line with our planning."
Read the article online at: https://www.worldfertilizer.com/project-news/08042020/kore-potash-given-environmental-and-social-permits-for-congo-mining-licences/
You might also like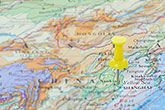 Casale's granulation process has been chosen for Xinjiang Xinji Energy's recycling project.