---
Greenfield Nitrogen has announced that it is planning to raise US$120 million towards building the first regional anhydrous ammonia plant through grass-roots ownership.
The plant will be located in Garner, Iowa, US, and will cost approximately US$220 million, producing 120 815 tpy of ammonia. On-site storage facilities will enable the company to sell and store up to 66 000 t. Greenfield claims that ownership will give farmers and agricultural retailers access to attractive manufacturers' margins.
The plant will be located in the heart of the corn belt, and will serve the agricultural community within a 100-mile radius. It will produce enough ammonia to meet one-third of the expected shortfall and approximately 1 – 2% of overall nitrogen imports. If the market changes in the future, the plant will be capable of upgrading to other nitrogen products.
As well as meeting local demand for nitrogen fertilizer, Greenfield is also creating a new way for both agricultural retailers and farmers to profit.
Karl Theis, Founder at Greenfield Nitrogen, said: "Greenfield Nitrogen has created a truly distinctive way to allow farmers and agricultural retailers to invest in the same facility so that all investors gain access to manufacturers' margins.
"No other plant has invited participation from both groups."
The plant will use conventional, proven technology to produce nitrogen fertilizer and serve the local market. Greenfield claims that a seed capital round has already raised US$4.7 million. The site is shovel-ready and permits have been granted. Construction is scheduled commence in 2018, with production expected to commence in 2020.
Read the article online at: https://www.worldfertilizer.com/project-news/08032018/greenfield-nitrogen-to-build-regional-ammonia-plant-through-grass-roots-ownership/
You might also like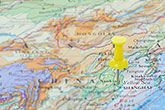 Casale's granulation process has been chosen for Xinjiang Xinji Energy's recycling project.