---
Yara Pilbara and ENGIE are to build a renewable hydrogen plant to produce renewable ammonia.
As part of the ARENA Renewable Hydrogen Deployment Funding Round, the Australian government is providing strong support for this project with a AUS$42.5 million grant.
Scheduled for completion in 2023, the facility will be one of the world's first industrial-scale renewable hydrogen production operations.
The project, which builds on the Pilbara's renewable energy potential, comprises the development, construction and operation of a renewable hydrogen plant within the existing Yara Pilbara ammonia plant to deliver green ammonia to customers for decarbonising emissions from power generation, shipping, fertilizer or mining explosives.
The key elements of one of the project are:
A 10 MW electrolyser.
An on-site facility of photovoltaic panels.
A battery storage system that will allow the plant to operate without being connected to the main electrical grid.
Scheduled to commence production in 2023, the first concrete phase of the project will produce up to 625 t of renewable hydrogen and 3700 tpy of renewable ammonia. This initial first phase would be key to enable the facility to become the "Pilbara Hydrogen Hub", building on the existing export infrastructure.
Yara Pilbara General Manager Laurent Trost said: "Renewable hydrogen can decarbonise ammonia production, and renewable ammonia can serve as renewable feedstock for a variety of industrial uses, and even more importantly, renewable ammonia is one of the world's most promising fuels for green power generation and shipping."
Magnus Krogh Ankarstrand, President of Clean Ammonia in Yara International said: "Thanks to ARENA, this project puts Western Australia on the world-map for renewable energy production, and further enhances Yara's commitment to a cleaner, greener future. Yara will integrate the clean hydrogen produced in the project into the existing ammonia operations to demonstrate that increased renewable hydrogen use can reduce the dependence on fossil fuels."
Michèle Azalbert, CEO of ENGIE's Hydrogen Business Unit said: "Renewable hydrogen plays a critical role in the decarbonisation of energy-intensive sectors. As ENGIE's strategy is to lead the energy transition, we are heartened by ARENA's support for this project, which will not only contribute to the development of the renewable hydrogen industry in Australia, but will also become one of the world's first industrial-scale renewable hydrogen facilities. The renewable hydrogen industry in Australia has great potential for local usage and for export markets. ENGIE is here to contribute."
Register for free to attend Ammonia 2021, an online conference focusing on cutting-edge developments in ammonia production technology: https://www.worldfertilizer.com/ammonia2021/register/
Read the article online at: https://www.worldfertilizer.com/project-news/05052021/yara-pilbara-and-engie-to-build-renewable-hydrogen-plant-to-produce-renewable-ammonia/
You might also like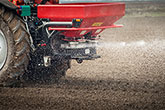 The company highlighted the role of the fertilizer industry by addressing global agricultural value chain challenges at the IFA conference in the Czech Republic.