First drilling programme successfully completed at Lake Throssell Sulfate of Potash project
Published by Jessica Casey, Deputy Editor
World Fertilizer,
---
Trigg Mining Ltd has announced that it has completed the helicopter-supported shallow rotary drilling programme across its 100%-owned Lake Throssell Sulphate of Potash project in Western Australia ahead of schedule. This is the first stage of a comprehensive exploration programme at high-grade Lake Throssell, targeting a maiden JORC Resource, subject to results.
The shallow (<10 m) surface lake programme was designed to target near-surface brine mineralisation to depths suitable for potential trench-based extraction methods. Many of the holes encountered brine endowment with strong brine-flows seen in units with increased gypsum content and silty sand channels.
Layers of crystalline gypsum, ranging in grain size from fine to coarse (≥10 mm), were evident within the majority of holes above ~5 m depth (~80% of holes drilled), inter-layered with silty clays. The gypsum layers were up to ~20 cm thick in some holes and were often associated with good to very good brine recharge rates. Minor channel deposits (sands and gravels) were also identified in three holes, with one hole (LTAG19) containing a clay/silt supported sand interval of at least 1.3 m with rounded pebbles up to 30 mm dia.
Crystalline gypsum and channel deposit material are known to have high porosity and permeability and have the potential to contain significant brine volumes with good flow rates.
Trigg Mining's Managing Director, Keren Paterson, was on site during the programme, and filmed a video to summarise her in-field observations.
A 620 l bulk brine water sample was abstracted from LTAG03 for future laboratory-based evaporation trials. This is anticipated to assist with future process flow sheet analysis. The previously foreshadowed in-fill gravity survey field work has now been completed with data processing underway, comprising 14 lines for 107 km. Together with the survey conducted earlier in 2020, the current survey will provide the first comprehensive and accurate picture of the entire tenement, helping the company's exploration team to refine drilling locations for the air-core drilling programme scheduled to begin during 3Q20.
Read the article online at: https://www.worldfertilizer.com/project-news/04082020/first-drilling-programme-successfully-completed-at-lake-throssell-sulfate-of-potash-project/
You might also like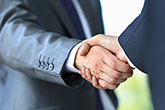 The company has initiated discussions with Unigel Participações S.A. to analyse joint business involving opportunity development in the areas of fertilizers, green hydrogen and low-carbon projects, in line with the revision of the strategic elements for Petrobras' Strategic Plan 2024 – 2028.